As the days get sunnier, it's time to start thinking about what shoes you'll be wearing when the weather gets warmer. Just when you thought you had spring and summer shoe trends already figured out, 2023 rolled in and the shoe fashion world turned on its head. Sure the classic staples are still in style, designers have been experimenting with bolder and brighter designs to make your outfit look even more trendy and modern.
In this post I am sharing new releases that follow the shoe trends of spring summer 2023. And it's not only the new trends, I've searched for high quality affordable shoes that you won't regret buying at the end of the season. Have a look!
Wedges
I must start with my favorite pick for this season, the Castaner wedges. The reason why they are popular is because of the UK royal ladies. Yes, from Princess Kate and her sister Pippa, to Meghan these are the go to ankle tie wedge espadrilles. They are not even that expensive for the quality offered. The market is saturated with synthetic man made materials which are at a higher price point.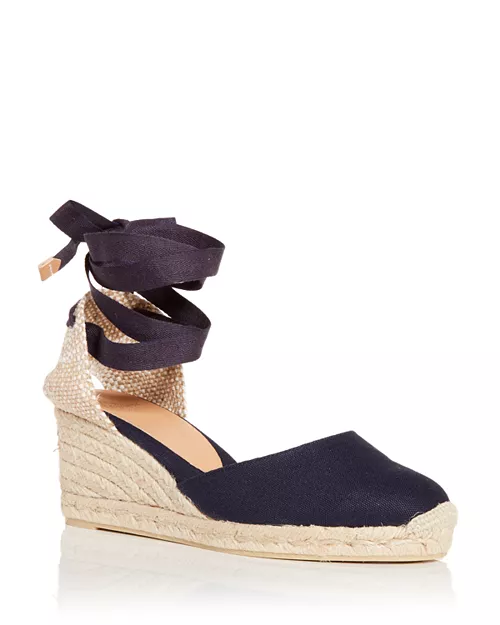 This pair is $140 right now, Bloomingdales has 25-30% off on the weekends, I got mine for around $100 and they are worth it. This pair is comfortable and adjustable for your own foot. The heels in particular have this airy gap and the tie is flexible, you can tighten it around the heel to fit you best. There are plenty of heights and colors to choose from, the detail of the tie even has leather. A very well made pair that you can wear for lots and lots of seasons.
Mules
We are starting high with the Jeffrey Campbell mules. They are sexy, comfortable and edgy. I particularly like that the toes are covered, you don't need to worry about the perfect pedicure. These have a leather upper and lining which is the inside part touching your skin, very important to have soft leather lining for comfort and stretch to mold around your feet.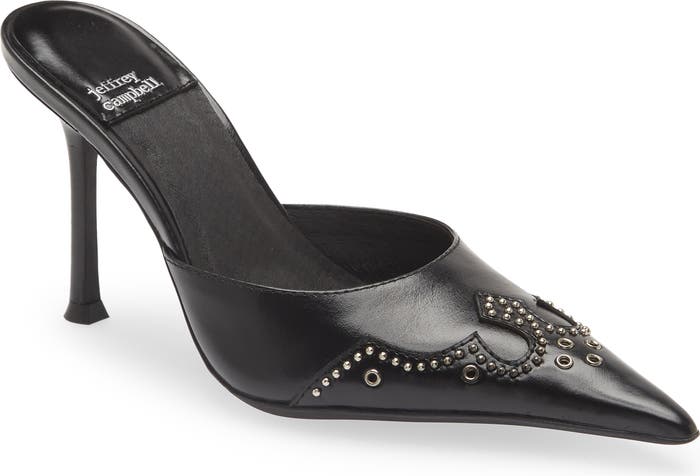 These are four inches high, not meant for a long stroll, but rather a night out, or a day activity. The rhinestones are also popular to add a bit of sparkle. Extra elongating when in neutral shade, because of the pointy toe, I would size up half a size for more comfort and a wider toe box.
Another lower option are these kitten Sorel mules with block heel, so cute and wearable. They have leather exterior and lining, edgy looking and most importantly, comfortable. This is a wear all day long pair that can easily be styled from floral dresses to white pants.
Woven
The woven trend is quite popular in handbags trends for spring summer 2023 as well. So is it in shoes for 2023. Here is a beautiful leather pair, airy and breezy. A couple of elements I see in this pair, the ankle strap looks and feels alluring, regardless of the heel height.
The natural color gives a little frame to the ankles without standing out too much and distracting the eye from your legs, while the almond shape elongates. I always look for flattering shoes that add to the appearance, not subtract.
And for an even breezier option, here is a pair of woven leather slides from Madewell. Comfortable, neutral, no fuss and very wearable. If you notice the slightly wider straps, just enough to not dig into the skin. This pair will take you through the whole day of running errands without breaking a sweat, or a blister. It's an understated staple.
Platforms
Let's switch gears with one of the fashion forward shoes trends of spring summer 2023: the platforms. And not just any platforms but the cobalt blue, and rainbow of blue shades in this pair from Jeffery Campbel. I really like this fun style for when you want to look fashionable, and feel like yourself, away from the daily routine.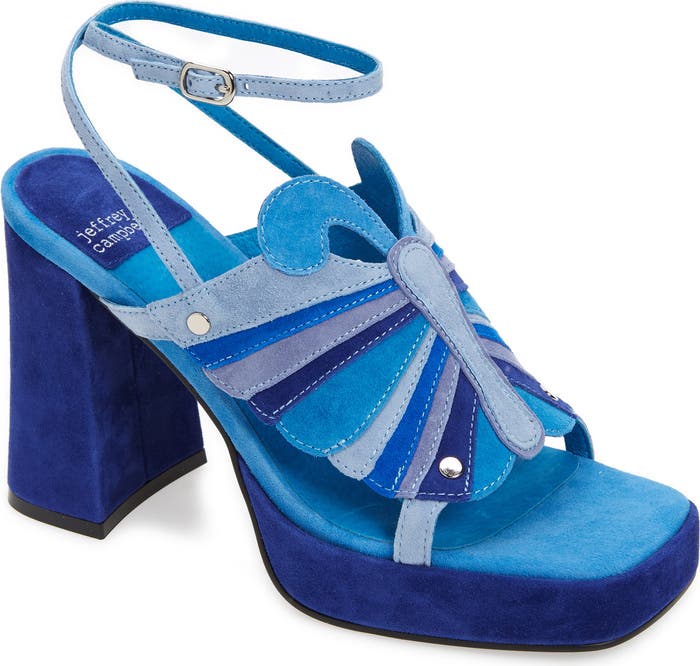 If you like to enjoy dressing differently on the weekend, this platform will do it for you. It's such a Sex and the City pair. Full leather which I appreciate, I wouldn't have picked it otherwise, the delicate thin strap, the butterfly detail is so unique and the multi blue shades for variety. And there is also the pink version with more colors for a girly look and in the brown shade for a demure appearance.
Super Strappy
For the super strappy shoe lovers, here is a new release in the gladiator style. We've seen this trend featured on the runways, and finally it's in stores.
Now don't worry, it is as complicated to wear as you think. Once you adjust the buckles to fit around your calves, you can easily zip it up and down from the back which makes it quick to put on and take off. To me it's this kind of item that brings a sense of style to the outfit without overdoing it.
PVC
Have you heard of Melissa shoes? They are recyclable shoes made in Brazil, with fruity scented PVC. If you want to wear plastic, this is the brand for you. They make the cutest designs that are wearable and very feminine. And even after a year in storage, they still smell really good.
I like these bow additions for water activities, they are just so stylish and comfortable which is hard to find in plastic shoes. The lovely color variety is inline with the season's trends: the violet, rose pink and fuchsia. They are a fashion statement for when you want to look cute and stand out.
You can also find jelly flats, sandals, kitten heels, and the puffy style which are all on trend right now. The clear heels with the platform combination and this last jelly flat style is one of their best selling ones for all day wear.
Sneakers
We have to have sneakers for the spring summer season. But in 2023, the ordinary ones just won't cut in. Well this pair from Cole Haan is top rated on Nordstrom, hundreds of women love them for style and comfort.
The slight platform is well hidden, very sleek and do we need anything else really? There are neutrals and black options as well if you want to match with your outfit, I do like black for outdoor activities to match the sportswear which is usually black. I find the white version blends in the platform the best, making it noticeable. Ladies remember, you don't need an entire collection, one maximum two pairs of sneakers for fashion wear and you are all set.
Mary Jane
Now let's see some Mary Jane styles. Yes they are a popular SS 2023 shoe trend and look flattering and delicate. The little strap across the top is the detail we all need to harness our feminine energy and showcase it.
This pair from Vagabond shoemakers is a must have. It's a simple, very well made pair of quality leather shoes. A timeless pair that will serve you season after season. Which is what we want.
This is the classical look. And the reason why I think they are a must have it's because I've seen the luxury brand version from the Row, which is pretty much identical, for six times higher price. You be the judge.
Here is a similar style with double straps from Coach. Lovely color, another simple yet effortless and timeless design that you can easily wear with pretty much everything from shorts to skirts, whether it is for commuting, office wear, or a night out.
Sandals
Saving the best for last, a popular SS 2023 shoe trend are open kitten heels. Beautiful bright colors and a lot of openness. Here is a french style from L'agence.
Made in Spain, this footwear is simple, sophisticated and incredibly alluring. A slight kitten heel lifts a party-ready sandal topped with suede straps grounded by a sleek, square toe for modern appeal. The white has the round toe and the pink has a square one, an elegant option for minimal wear.
I am not a logo showcasing person, but this Tory Burch pair seems less noticeable. I like the overall style, the colors, the minimal but still curved heel and details. It's another example that I can see being worn for lots of years without looking dated.
This last pair from Mango is the heel we will see everywhere. The slightly inward shape which is popular in shoes for 2023. The delicate straps create a barely there effect, while the lower heel leaves room for your foot to be on display and support it with grace. This is what I call attractive heels.
I hope you found some beautiful and comfortable shoes to wear this spring summer season. Now if you are interested in the top spring jeans trends too, here is the post to check out. Come back for more fashion tips and trends. You can also subscribe to my YouTube channel to stay in the loop.