Summer will be here before we know it, so it's time to start thinking about what type of swimwear you'll be wearing to the beach or pool. While there are plenty of classic styles that never go out of fashion, there are always new trends that emerge each year. This year's crop of stylish swimsuits has something for everyone, from bold prints and eye-catching colors to flattering cutouts.
Ladies, I've looked at hundreds of bathing suits researching for this post and here are the most popular and wearable trends you will actually want to try:
Colorblock
Colorblock is trending in swimwear too. Look at this Robin Picone one piece, for example.
It has a simple dark bottom for a slimming effect, while the white accentuates the upper body's waist line and breasts. The combination of block colors intertwined with each other in a rigid form. The colors are clashing, and you can clearly distinguish between the contrasting shades to create an overall effect of lights and shadows around the silhouette.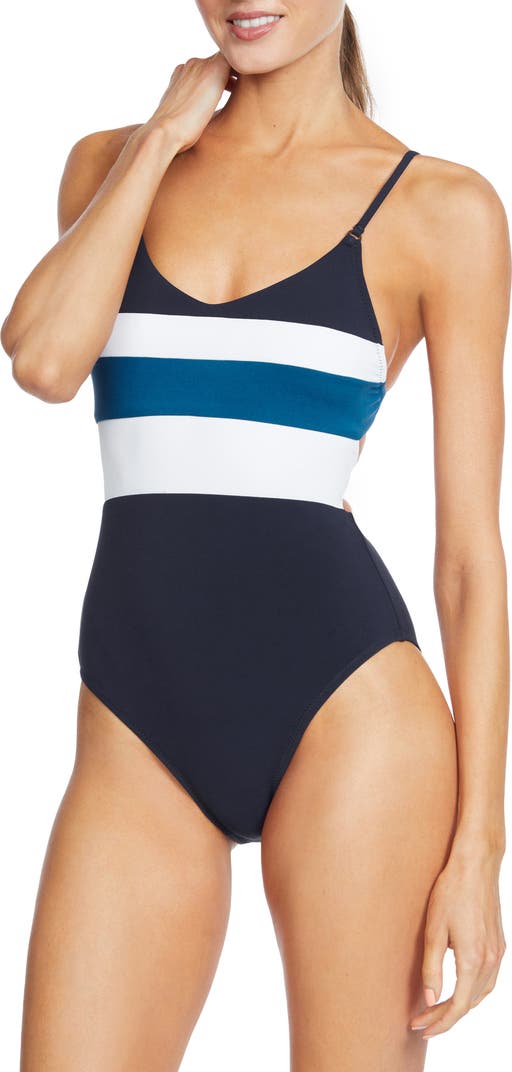 Here is the strapless version but you can see there is a similar strap style with ties in the back.
If you are looking for two pieces, this black and white double strap bra and bikini set is a chic alternative. It's quite a unique design. I want to remark on the deliberate choice of color placement here. The black is slimming and the white is enhancing the breasts and the bum.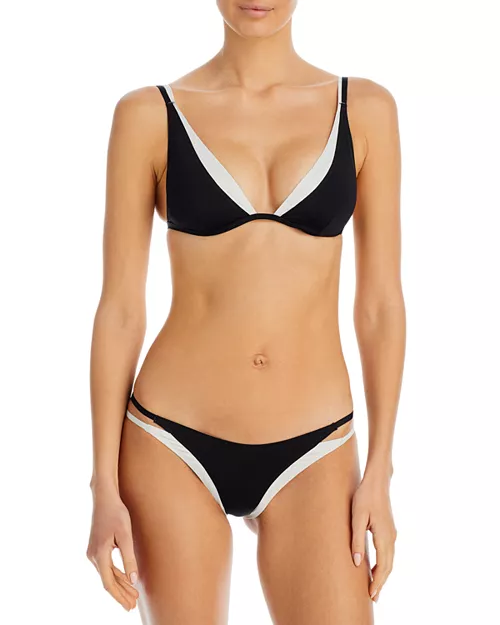 Next, we have this colorful Farm Rio one piece. It is a dash of fun to the summer island getaway we all look forward to. The leopard print adds a little spice and the low cut in the back is noticeable for a less stiff feel even when you have a one piece on.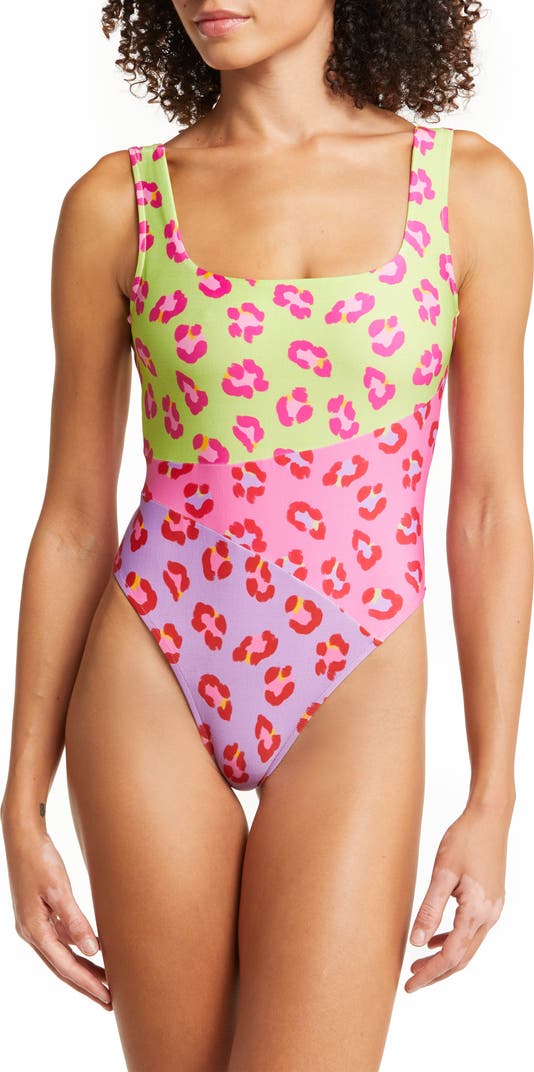 High Leg Cuts
This trend is not for the faint of heart. Very popular this season, the high leg cut means that the cut of the bikini is done very high. The legs and thighs are exposed and elongated. Not to be confused with high-rise bikinis. It can be flattering if you want to accentuate your legs and minimize the material that holds your bottom. It's all a visual effect.
Here is a swimsuit from Vitamin A. They are a swim brand in California. It's a very cute and youthful look. The back coverage is inevitably reduced, it's not a thong, but a mid to low coverage style.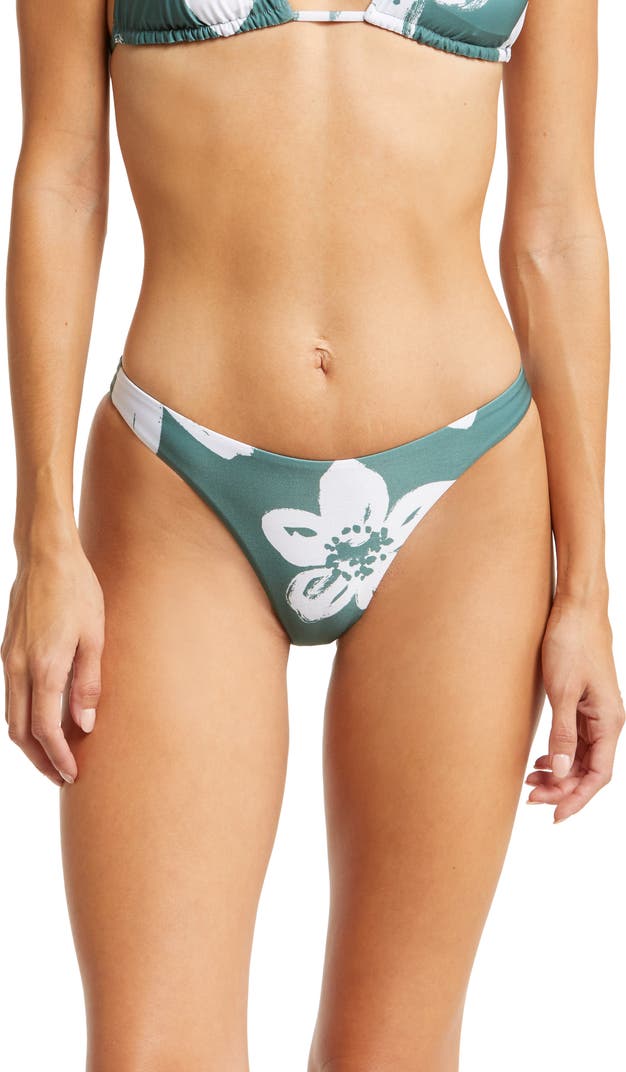 This design combines a high leg cut with a high waist. It looks like a straight band around the waistline. I favor it because it looks very stable, it's attached all around and, unlike the previous design which shifts when moving, this one is a less riskier option. The color combination is to clearly highlight the waistband almost like a belt, and then the added high leg cut.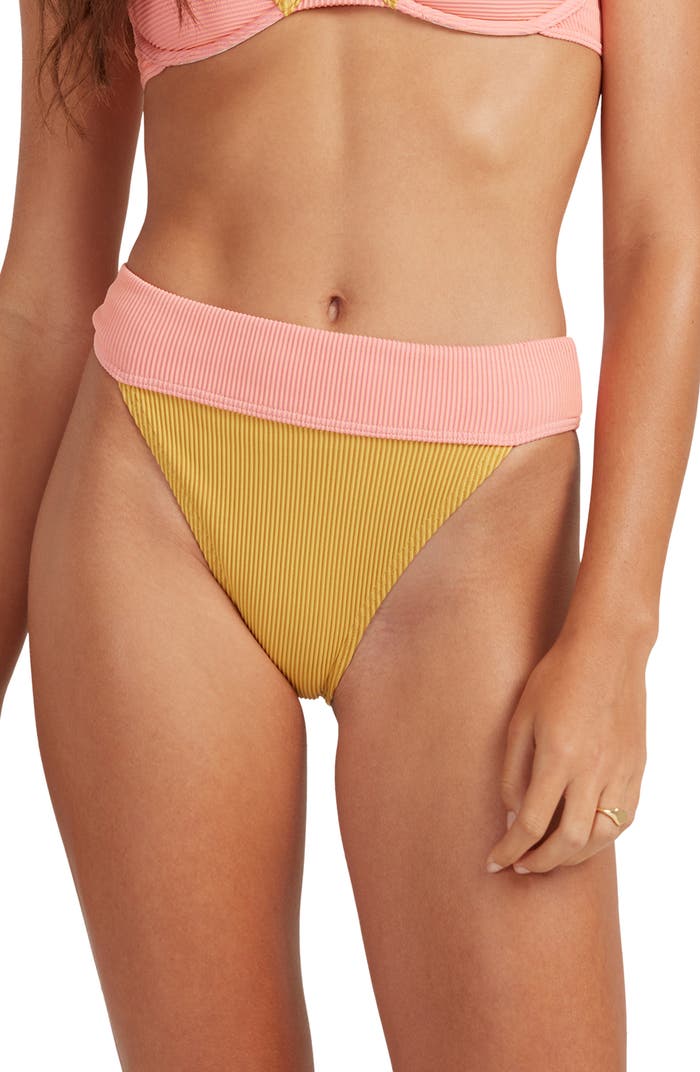 Here is a narrower option for less front coverage, when you want a slim fit style.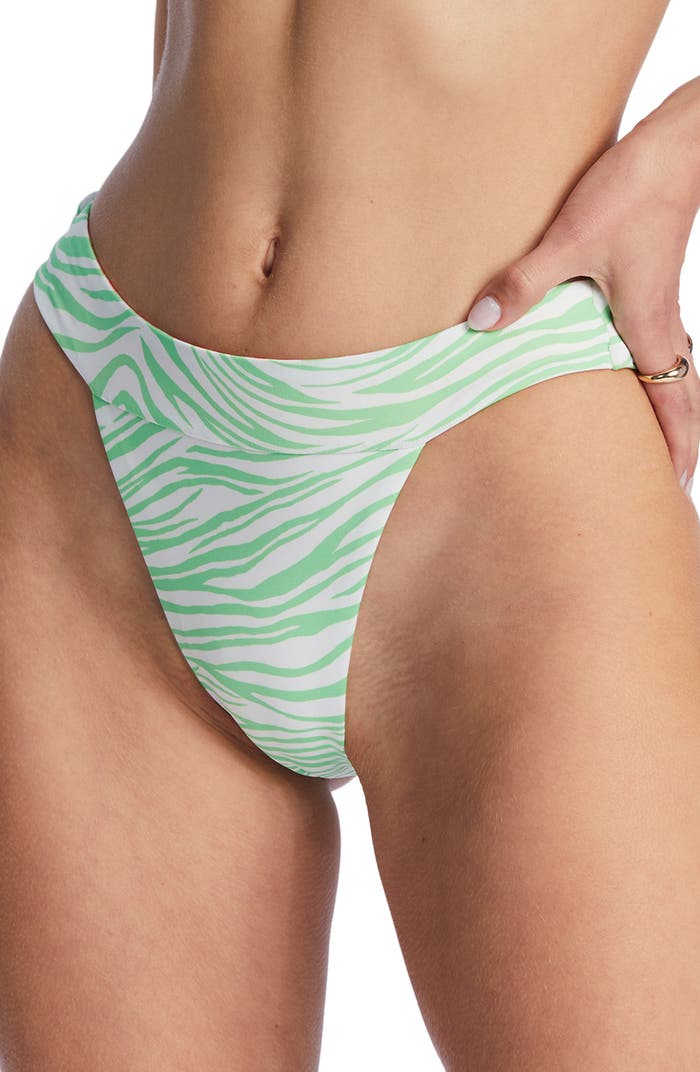 And lastly, a higher coverage style while still maintaining the high leg cut on the sides.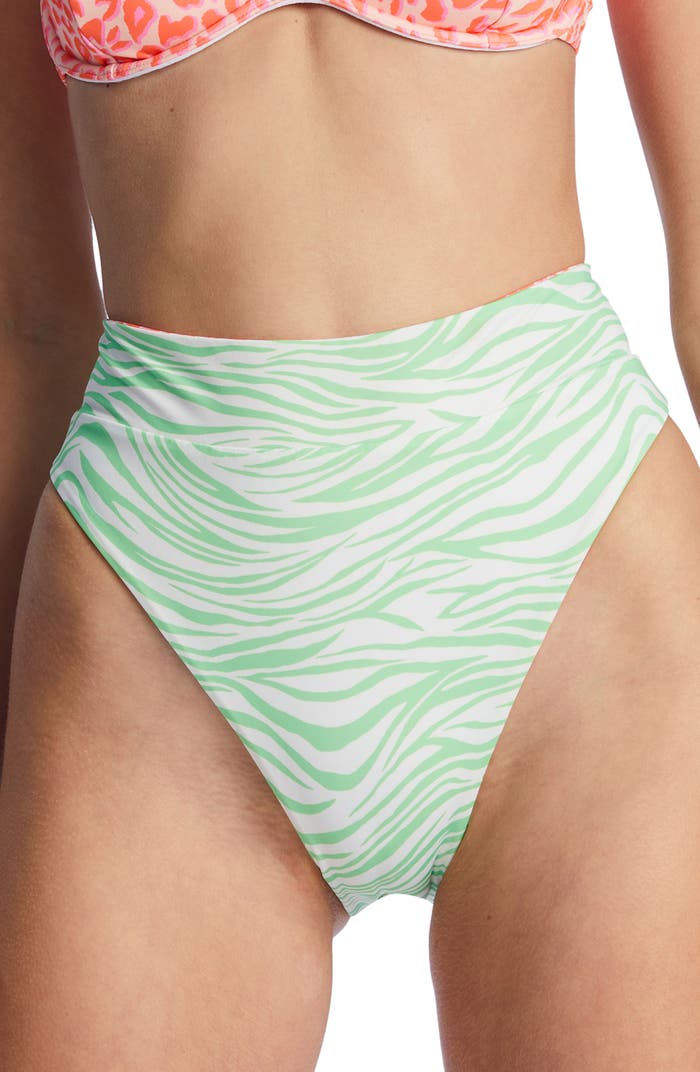 Cutouts
Next, we have classic bathing suit designs with cutouts that serve as pure fashion statements. This blue Christy set looks so flattering. I particularly like the soft cutout cleavage, which reminds me of an athletic top. And the matching high leg cut bikini, again, following this year's bathing suit trends.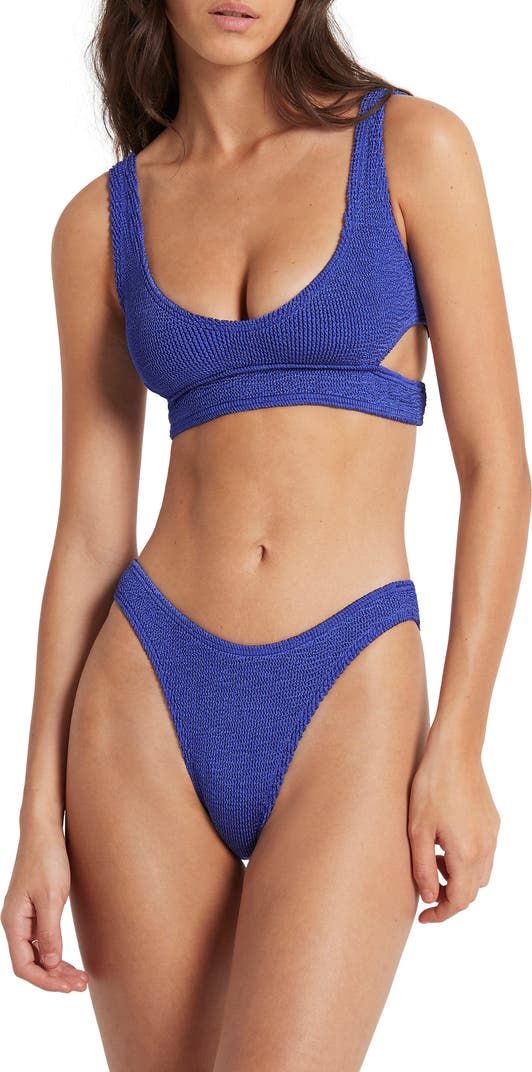 River Island is another exclusive brand of swimwear. This O-ring style is starting to add sophistication to the one piece. In 2023, we'll see a tendency to glamorize the beach look. Even in the water, lots of strings, and cutouts to add dimensional layers.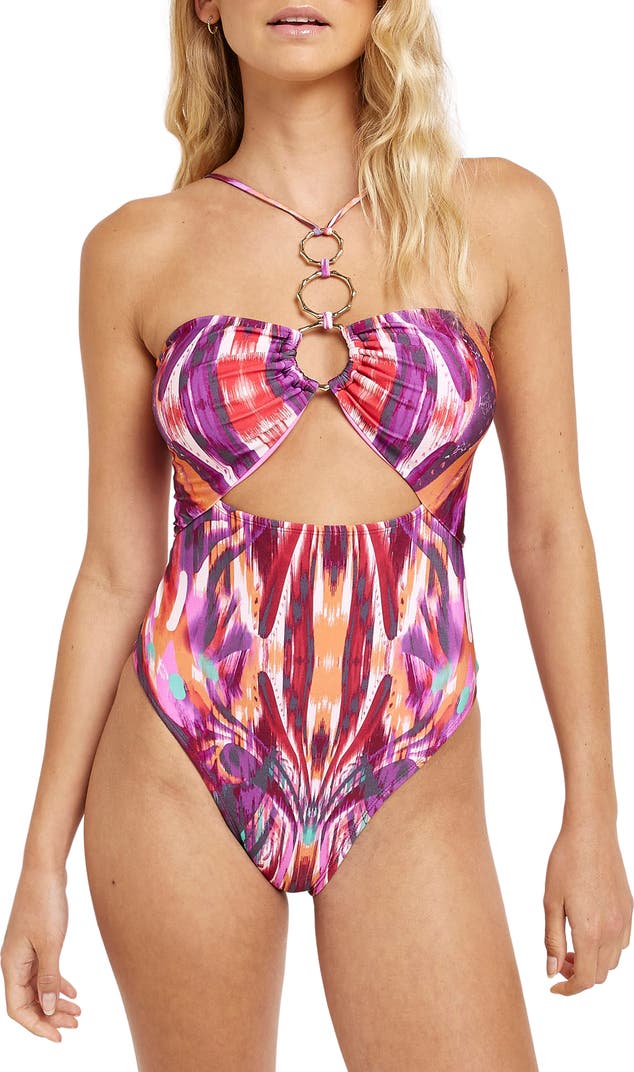 I particularly like this style by Free People. It's a more subtle take on the cutout, just enough detail to still have a bit of interest in the back, isn't it? Full coverage in the front, high cut, it's sexy and alluring with taste. And, if you are a sportswoman, looking to be active while avoiding the traditional wet suit look, this is your splash of fashion.
Next, you might need a pair of sunglasses to look at this next bathing suit.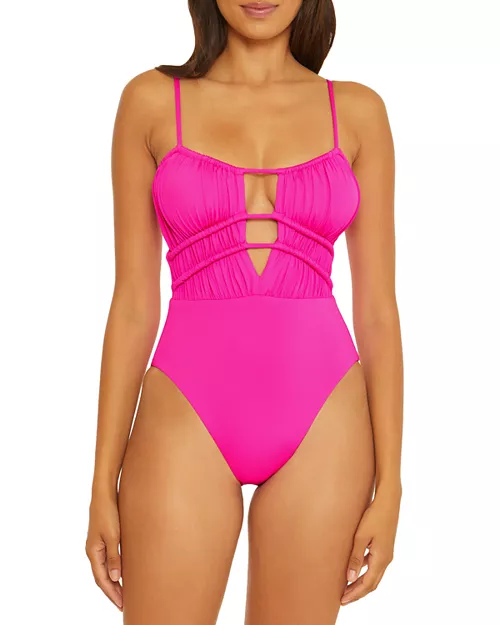 Feast your eyes ladies, this is such a rich and bright colorful fuchsia. The bold monochromatic block color that we have all over the fashion trends, we see in swim wear as well. Higher leg cut, cutouts and enough coverage on the bum, it's a beautiful take on the tropical motif.a
Lastly, for this category, I chose the halter top because, depending on the shape of your breasts, it might be a good fit for some. It has cutouts, the ring-shaped bikini with details that make this set look different without being overpowering. The cobalt blue is not only one of this year's popular color choices, but also the #1 waterwear color.
Sporty 90's
Baywatch anyone? Pamela Anderson's documentary came out recently on Netflix, and the red one piece is back with a bang. I found a very similar looking one and the low cut in the back is a defining attribute to her famous look, in addition to the deep cleavage.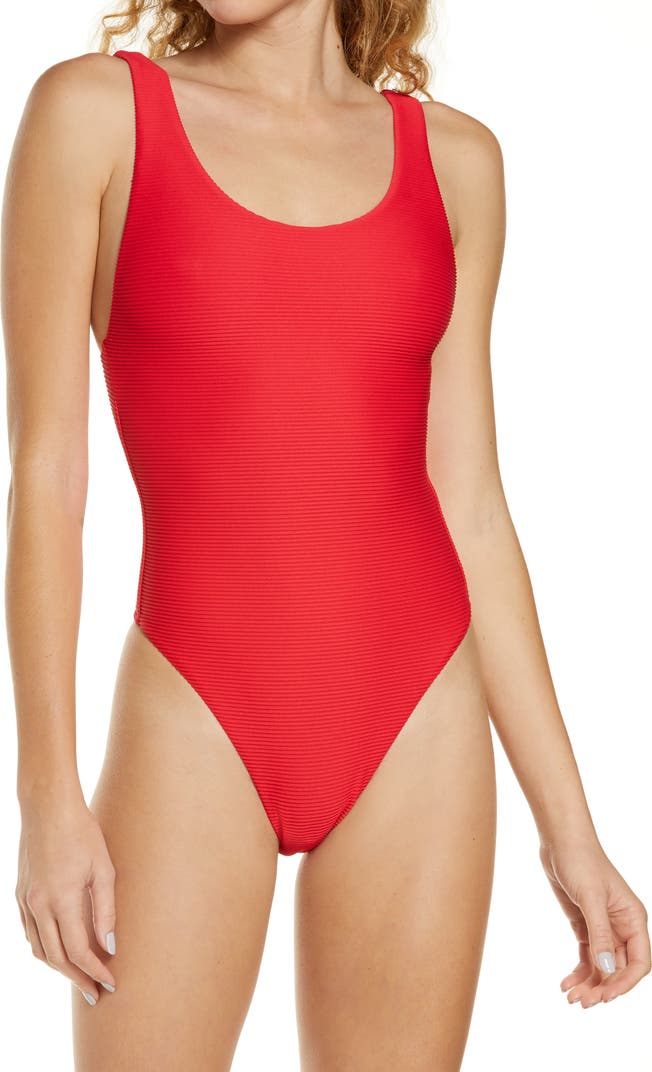 Here is a black alternative if red is too strong for you.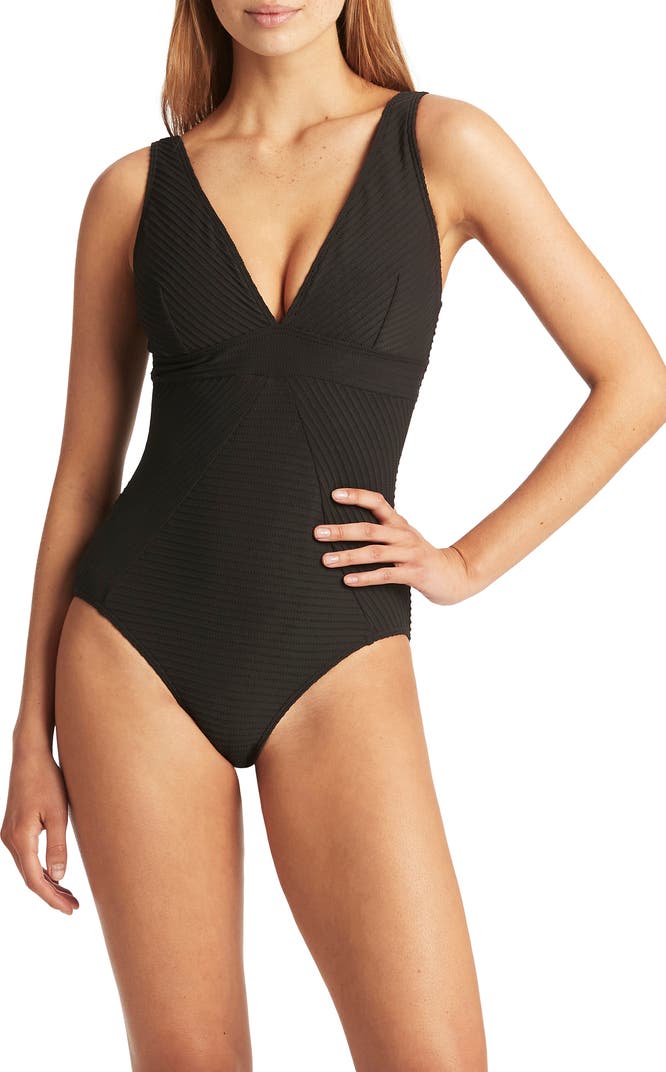 The style advertisements from the '90s show swimsuits in bright colors, fun patterns, and funky styles. We see the athletic-inspired, one-piece suits. You can also find it in a more detailed one piece with a keyhole.
If you are looking for the two piece, we have the halter top design from Sea Level, and this bright pink from Becca.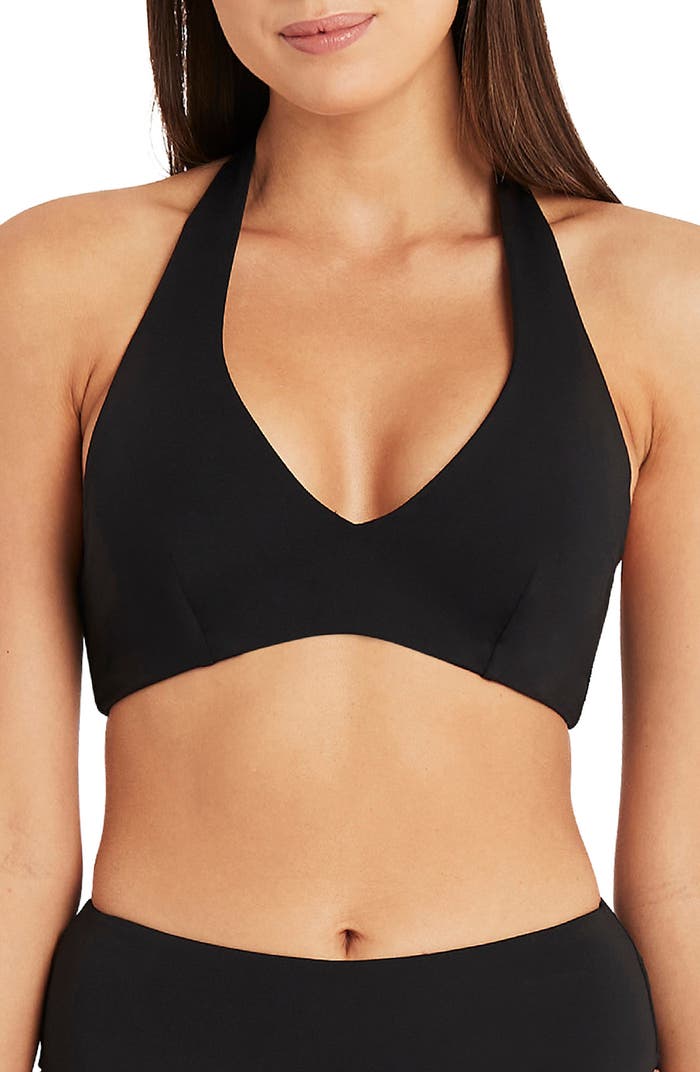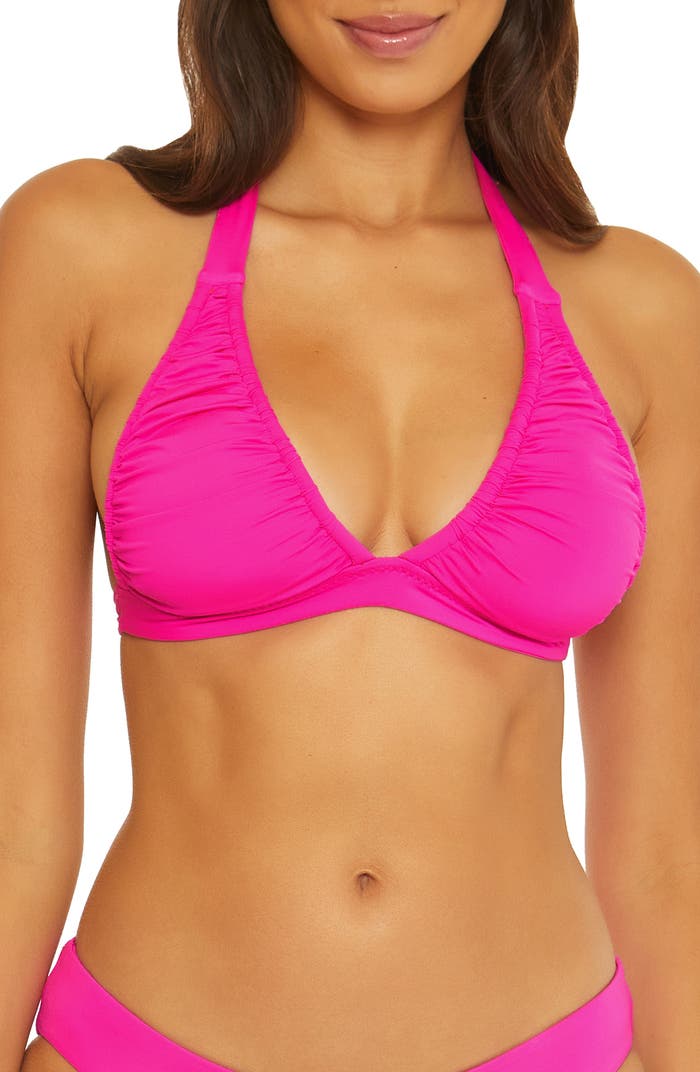 Another example from the 90's is the tee style. Picture a cropped t-shirt with micro sleeves.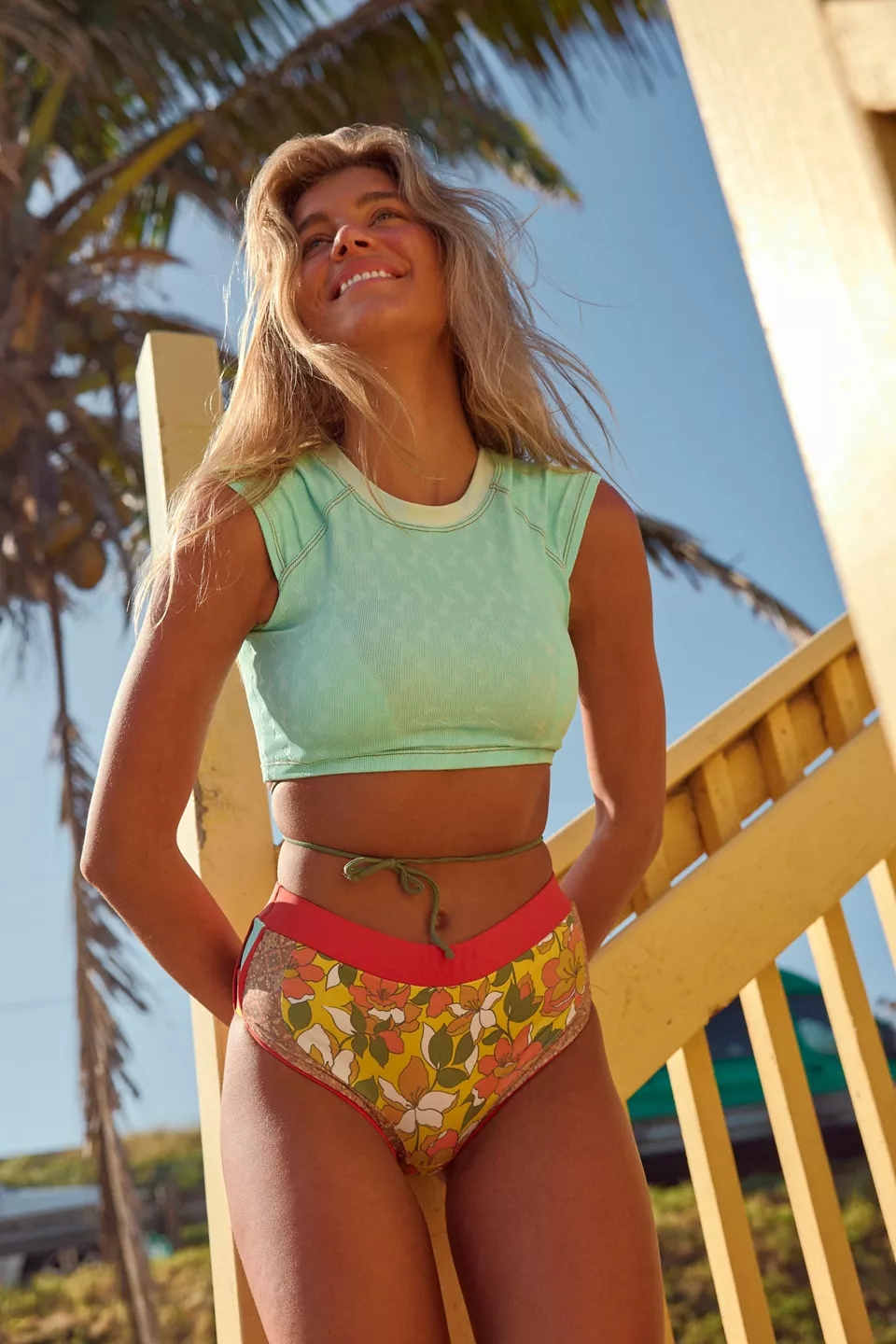 Underwire Bikinis
It's a strange combination, isn't it? Wire in water. But thinking about the bra, I find the balconette shape flattering for heavier breasts because the lift is from the bottom and the sides simultaneously. Unlike the triangle or halter top shape which lifts from the bottom, but then you see the side bulging out a bit. Here is a one piece with a keyhole, medium coverage. It has a few trends going on at the same time.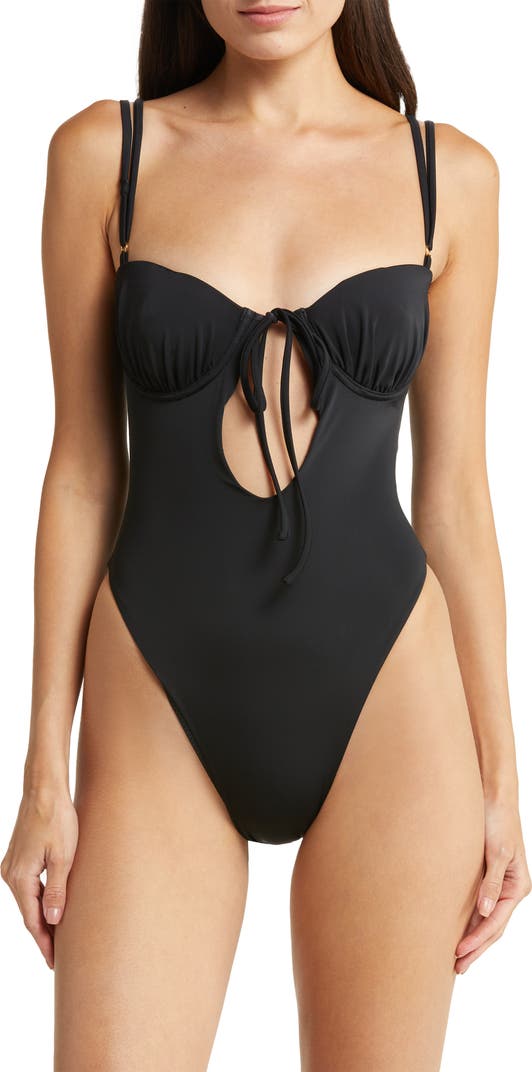 I also want to show you a slight alteration, the bustier style with matching bottom from Free People.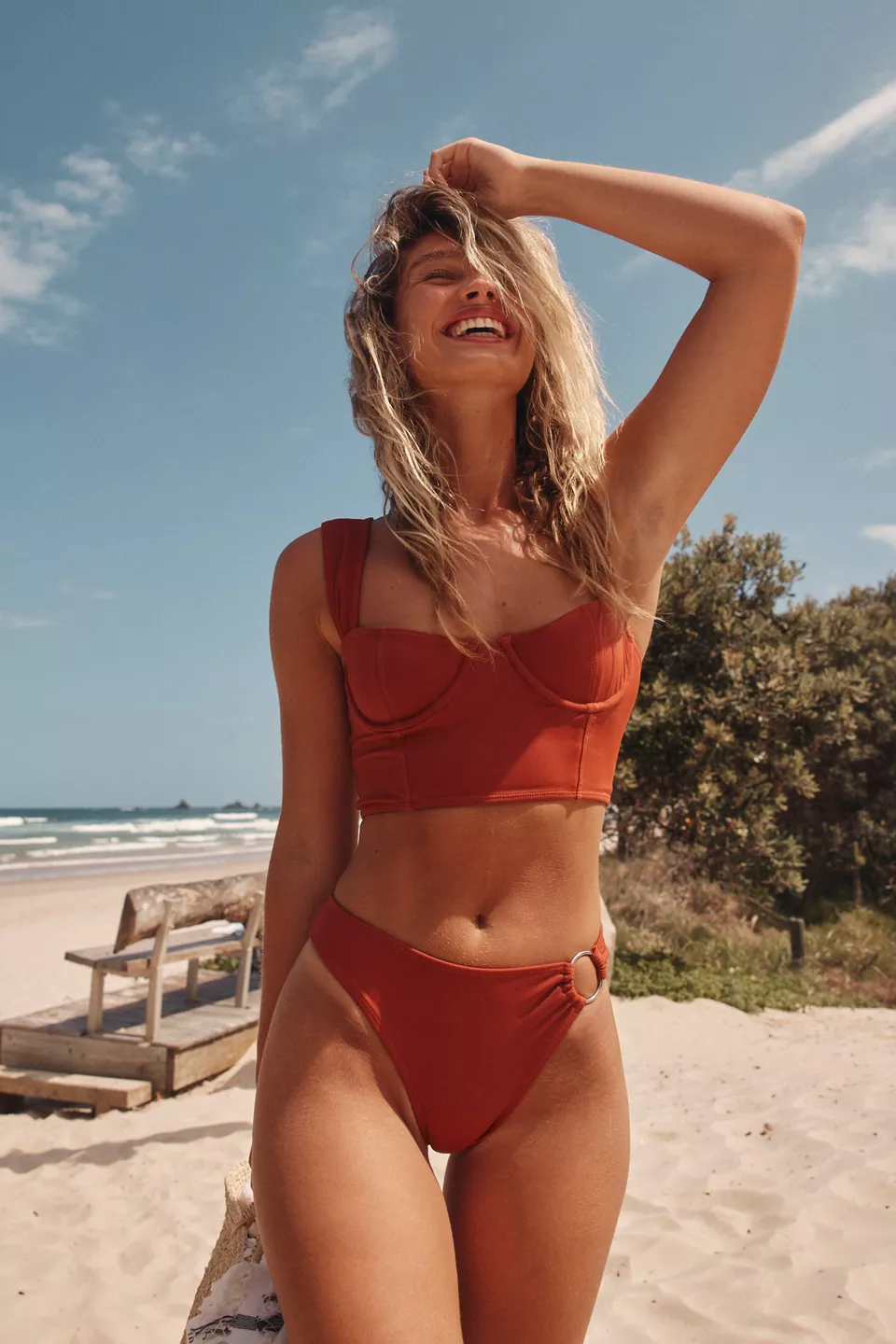 Free People has quite a few options. Here is a combination of color block elements in the bikini straps and the bra coverage.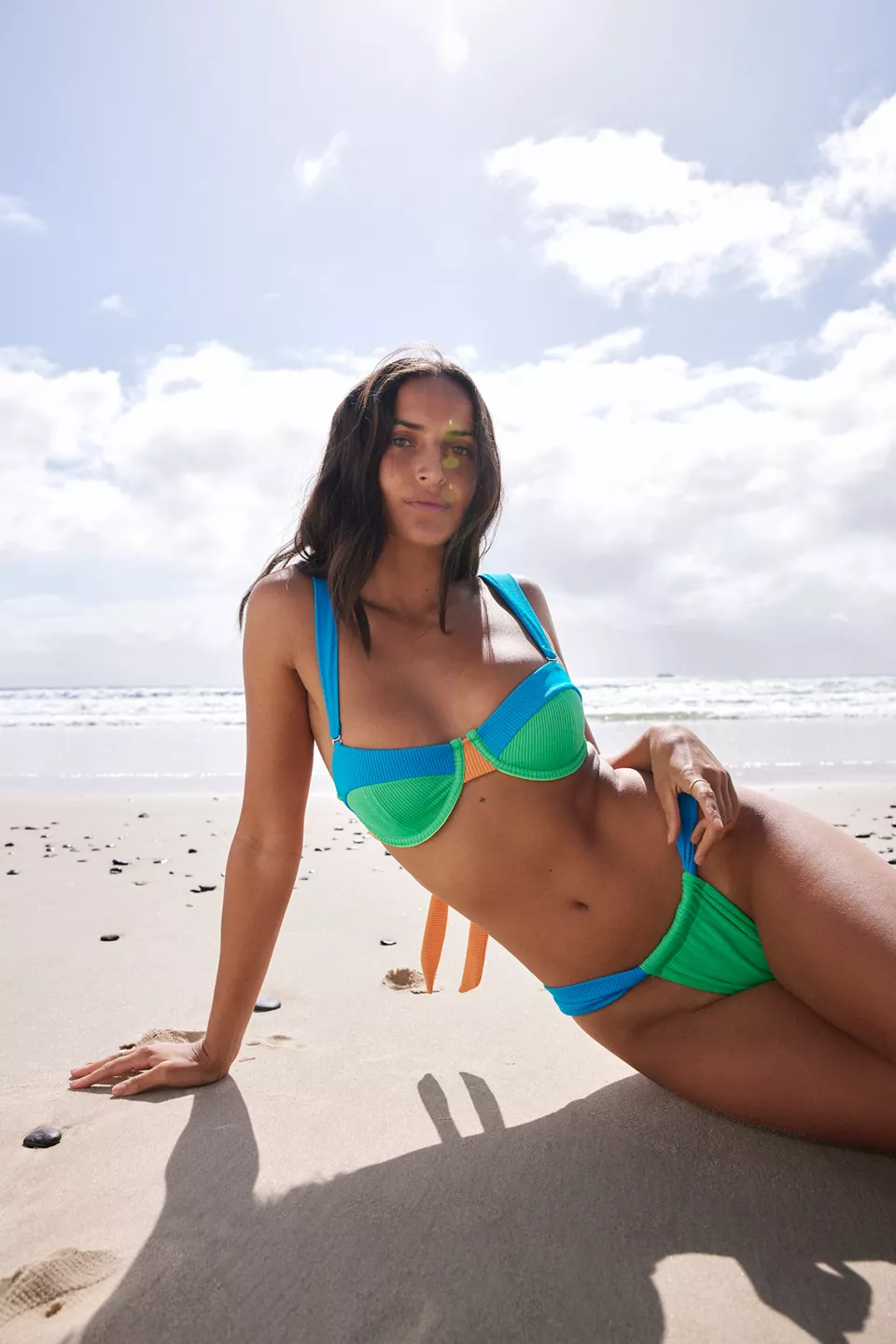 We have the tie strap version which we've seen in the spring dresses and tops. I particularly like this element for an added touch of femininity to the classic strap. And, you have tie bottoms for added dimensions.
I've also included this neutral tone swimsuit with metallic thread for a boost of subtle shine when picked up by sun rays. Here are the matching bottoms.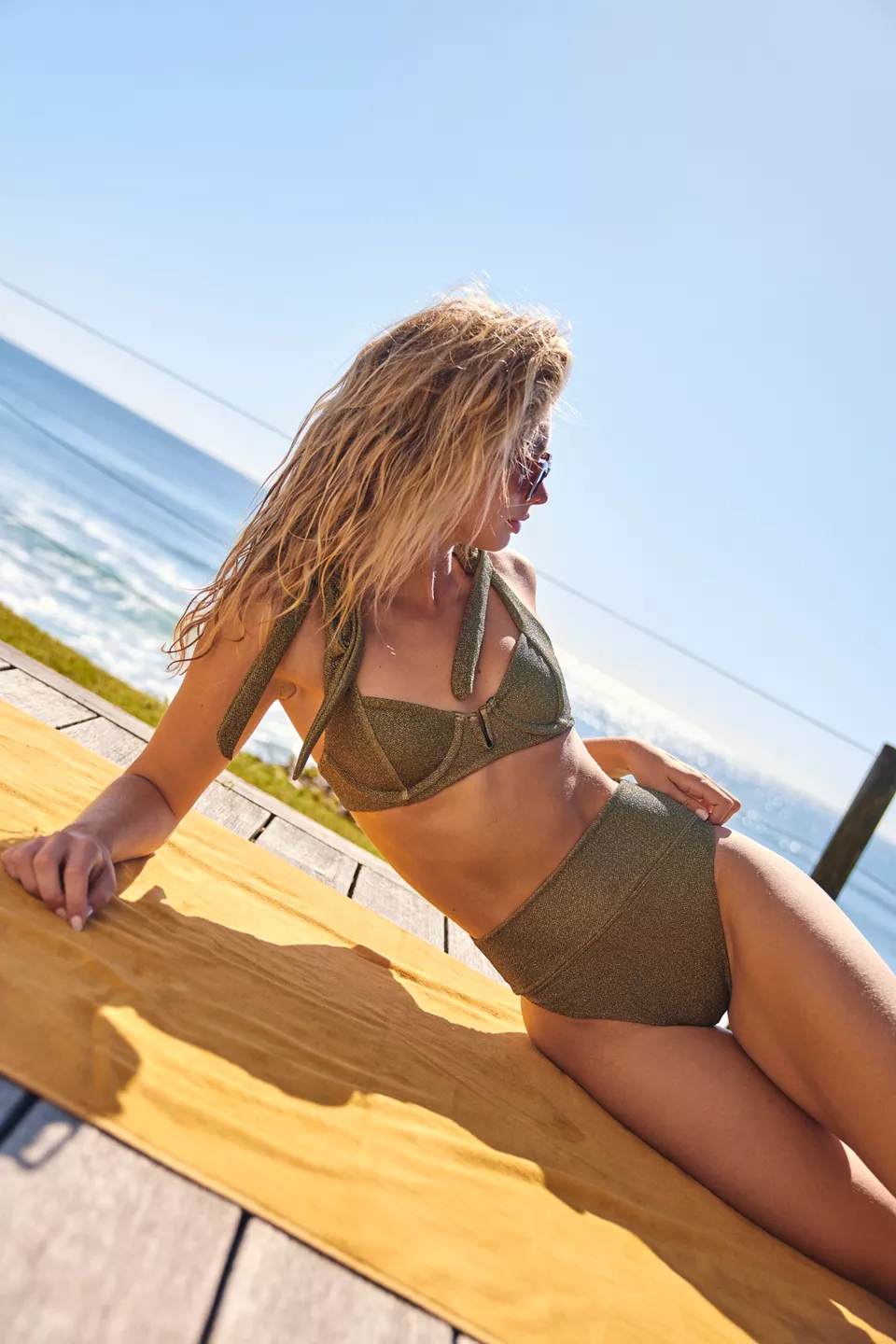 Ruffle and Ruching
The fashion trends this year have ruching and ruffles added to the bottoms of skirts, sleeves and collars. So why should swimwear stay behind? Here are some adorably-detailed two pieces from Anthropologie: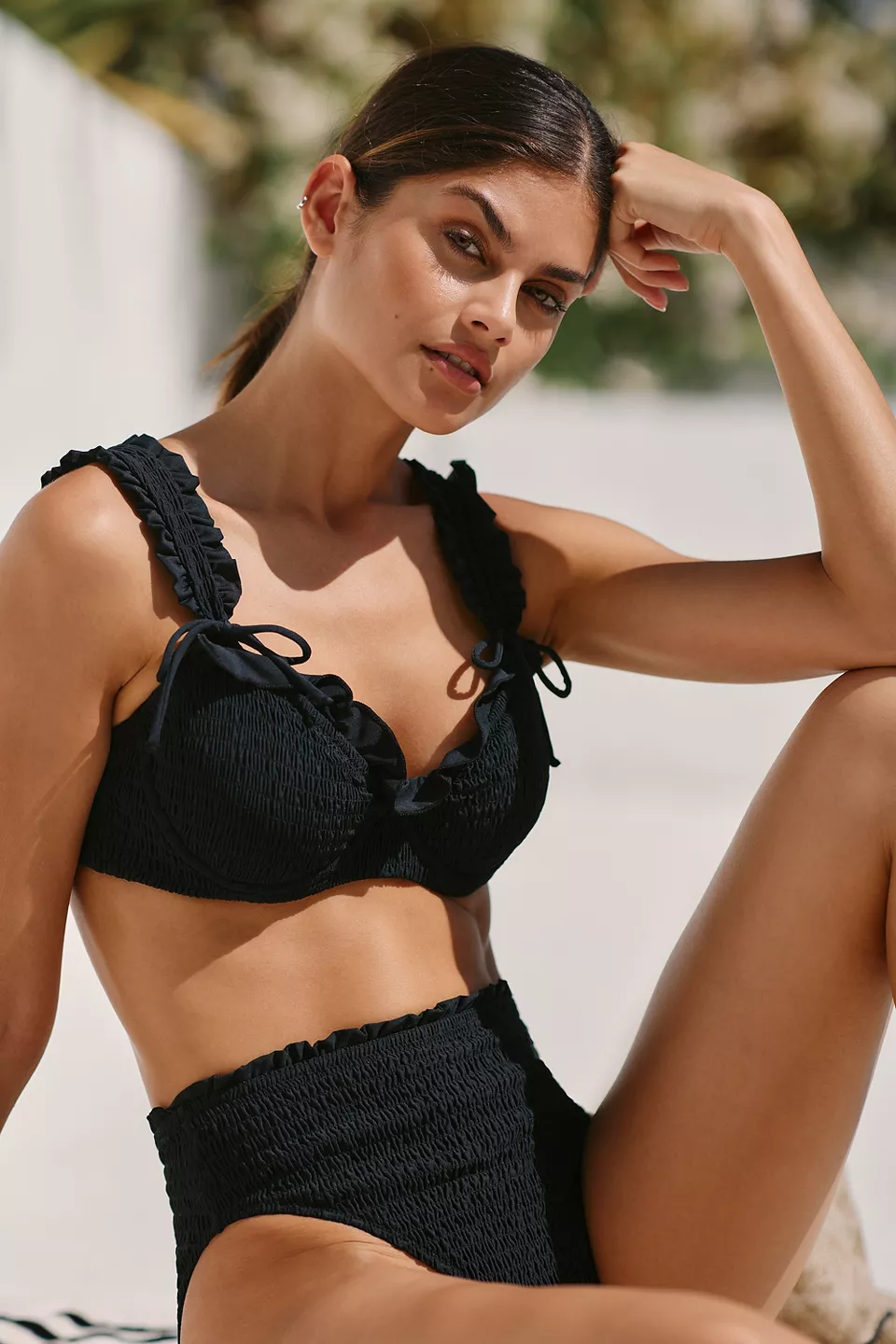 This is a somewhat classic take on the swim suit. We have the smoked top with texture and strings. The bottom too looks fun, yet mature.
Here is a white top with even more details, almost like a stand-alone shirt. You can easily throw on a wrap skirt over the bikini and turn it into an after beach look.
More swimsuit trends this season incorporate the mermaid effect in the fabric design by including slight scale imitations on the surface.
Next, I am showing you the ruched styles for one piece with a combination of metallic colors as well. When the ruching is added to the sides, with the visible strings, it sits better and molds around your own body.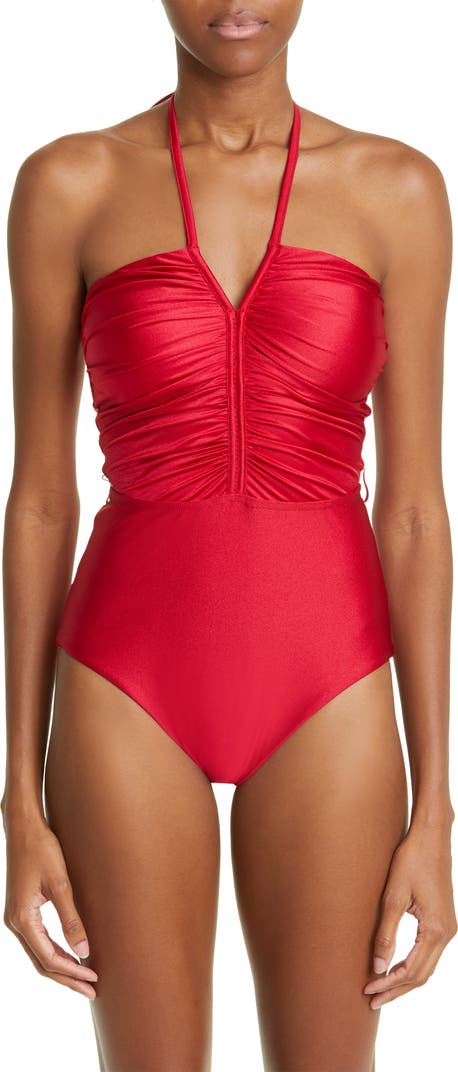 Here you have the color block combination with a slight hourglass shape. Again, more flattering elements that we don't need to think about. These pieces do all the heavy lifting for us.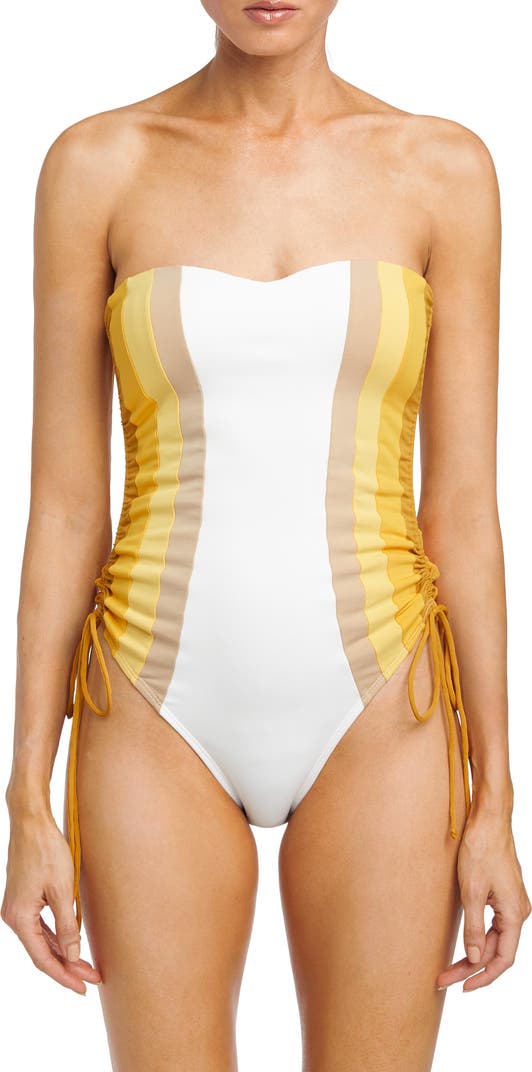 Mesh and Crochet
This swimsuit trend looks like so much fun to wear. It's about visual illusions. The mesh styles can act as invisible wear to support the rest of the outfit. These pieces give off the impression that you have material holding onto you inexplicably. We see stripes of material in the leopard and snake print.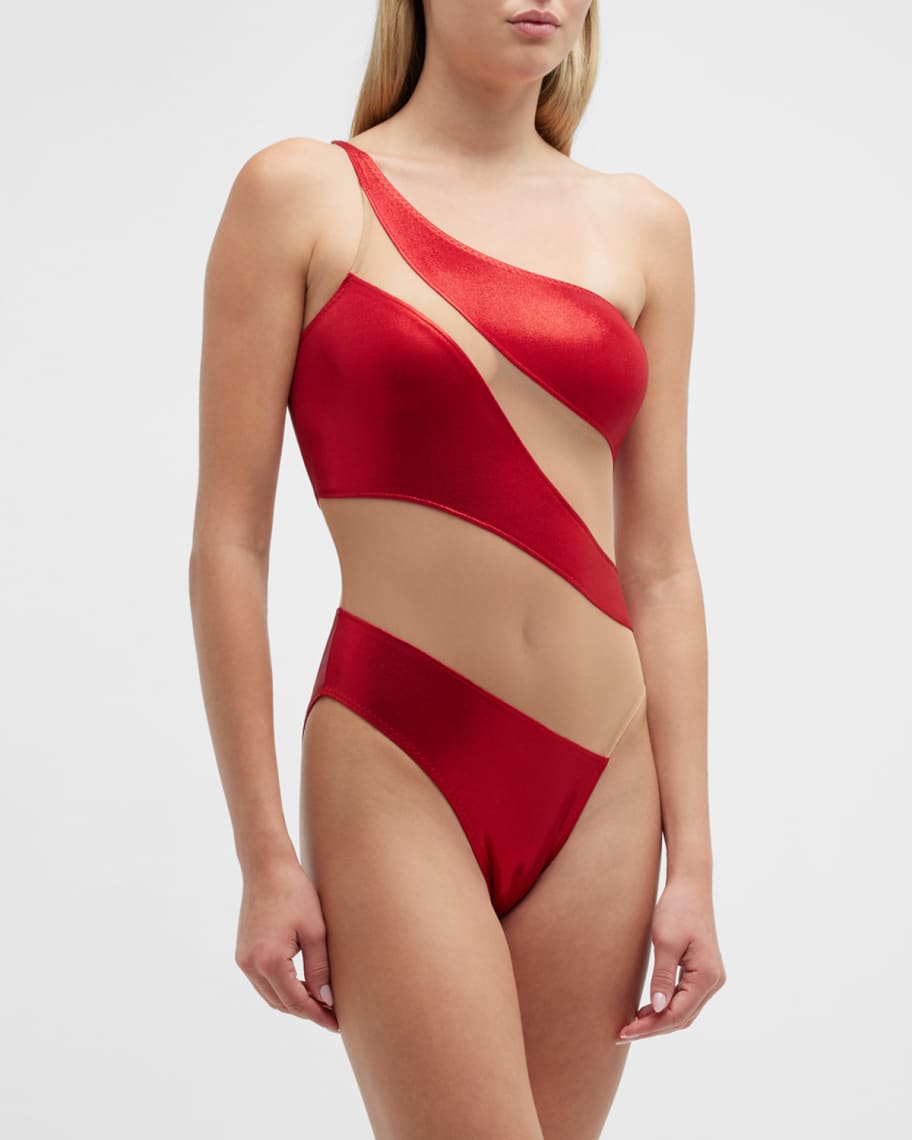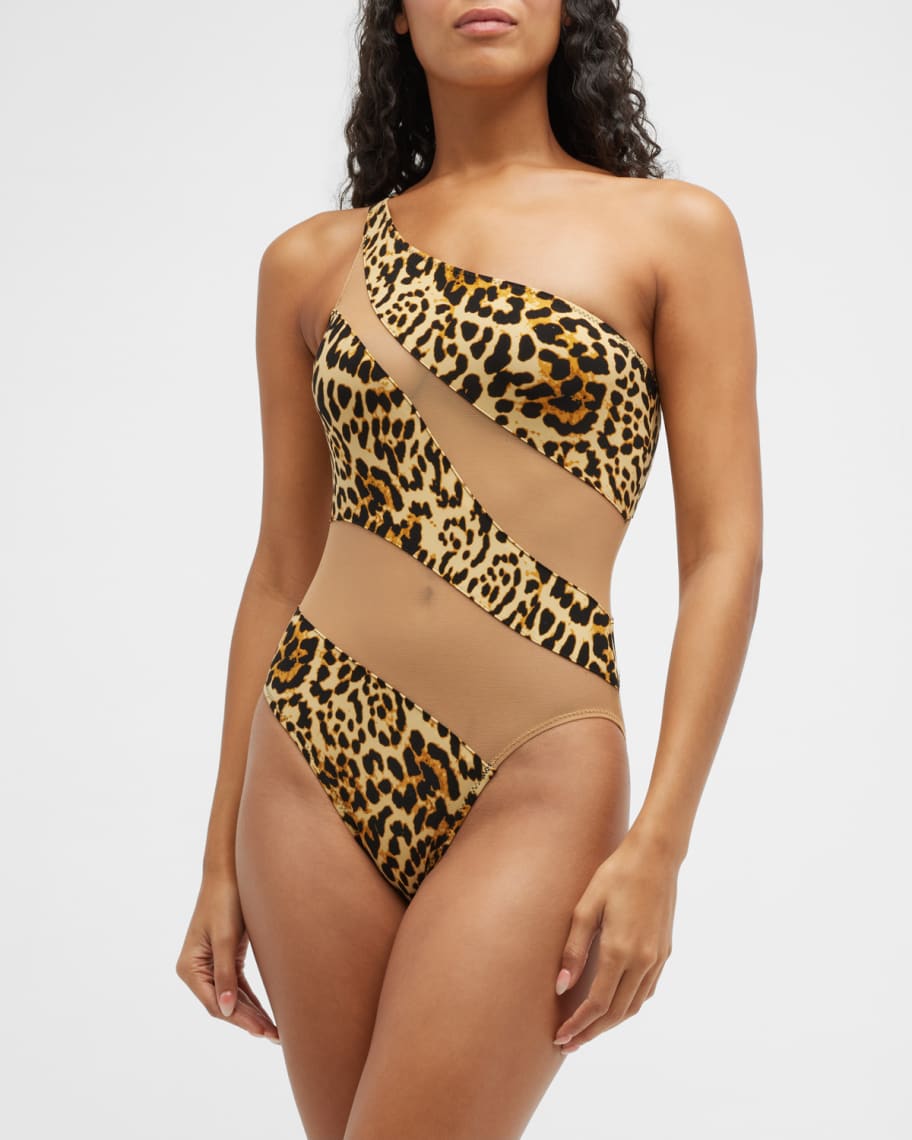 Robin Picone has a few designs for the mesh trend, one piece with holes in the middle. This popular trend is also an homage to the mom bathing suit covering the tummy, while still making it breathable and attractive.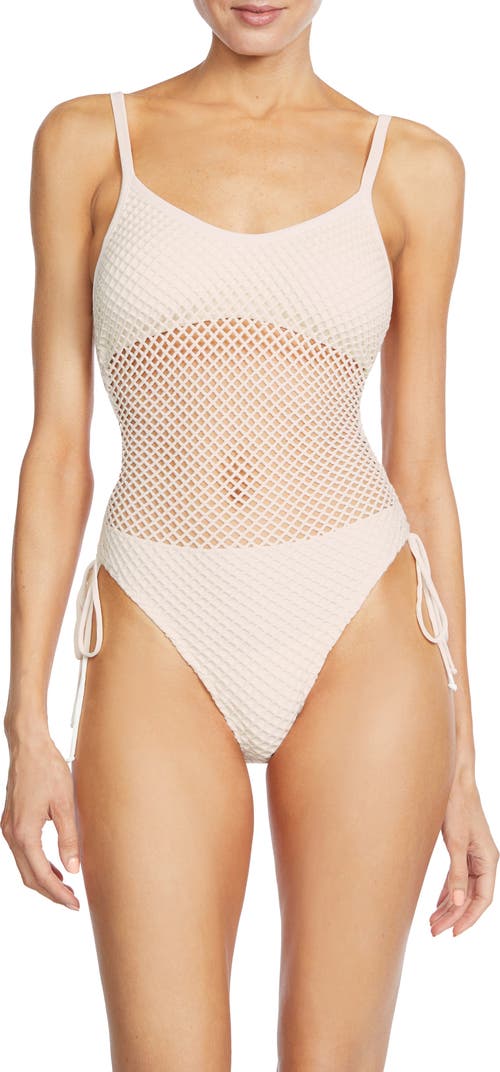 While researching I found quite a few of this style, where you create a hybrid between the one and two piece bathing suit.
We also see the crochet style. Here is an elegant example where you have the trim of the two pieces nicely sewn, with exaggerated lines to emphasize the difference in texture added around the frame. The beautiful pale pink looks beautiful and the metallic gold shine hugs the entire design in place.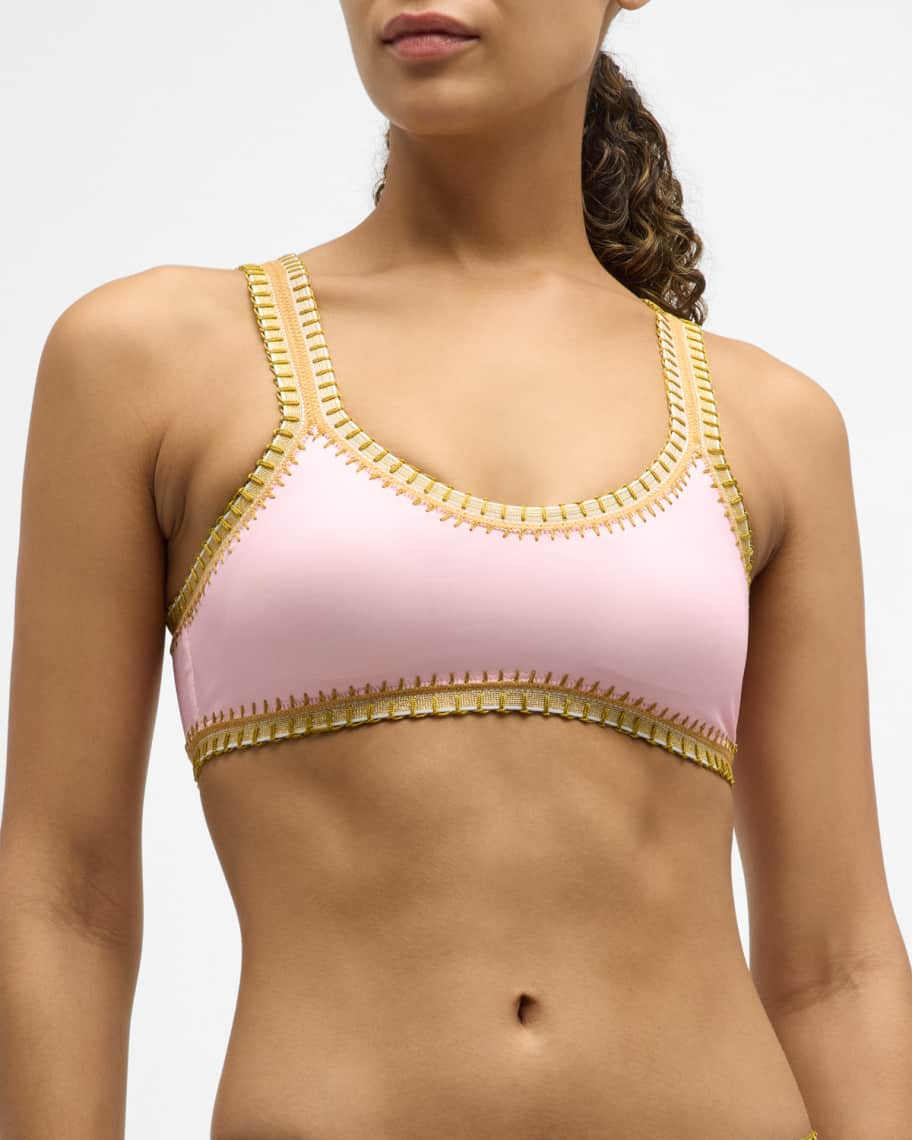 This last black one piece mesh is what looks like a bodysuit, intimate wear worn on the outside. It is a swimsuit, deliberately created. This was one of the trends we've seen covered in this year's spring fashion trends. The bum is covered, has a belt built in, another trendy element. It's definitely a more attractive look but with taste.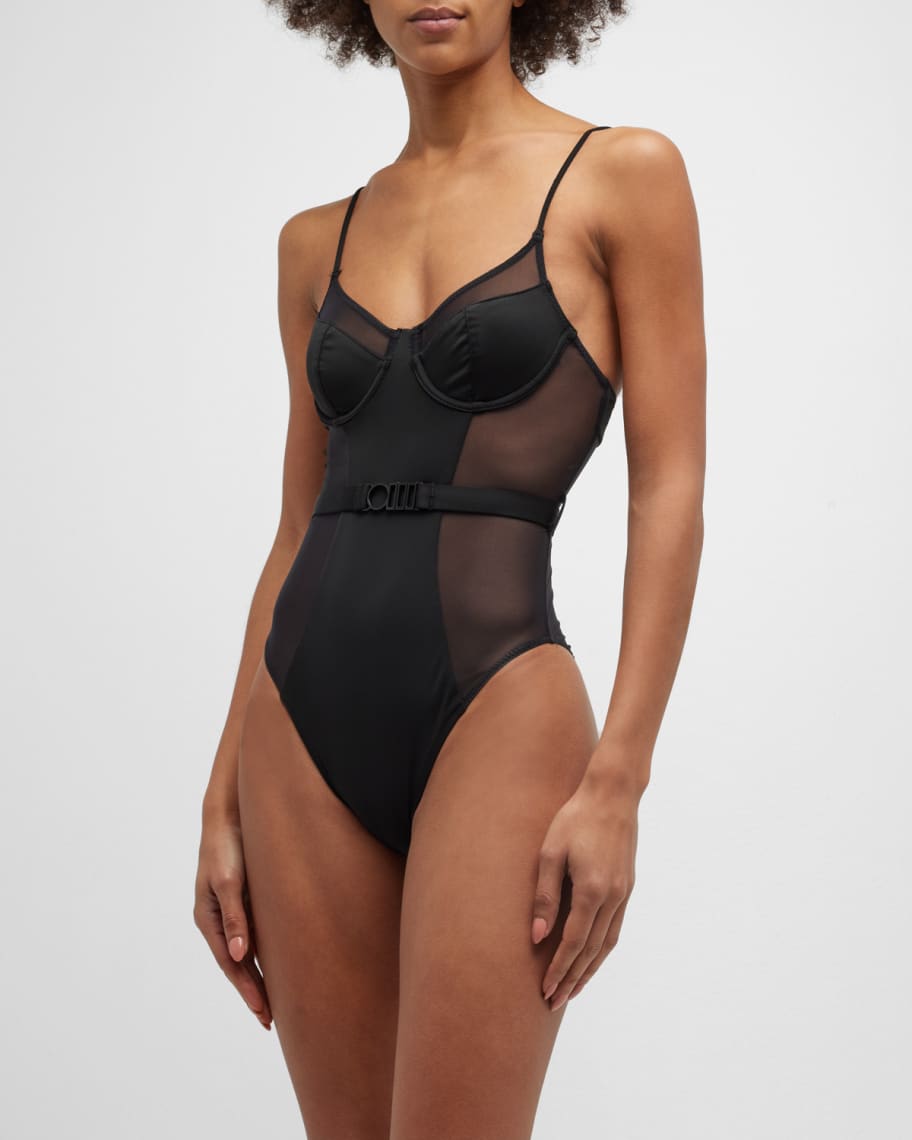 Strings and Straps
We've seen straps all over the shoe trends this year. And they are incorporated into the swimwear as well. Think longer straps for when you tie your bikini or halter back. There is a string line on the sides to tie the bottoms, nothing new except that the string is exaggerated to be longer to dangle. Same on top. In the back when you tie it, you will have excess string.
For one piece, we will see strings on the side as net details, with extra strings to tie.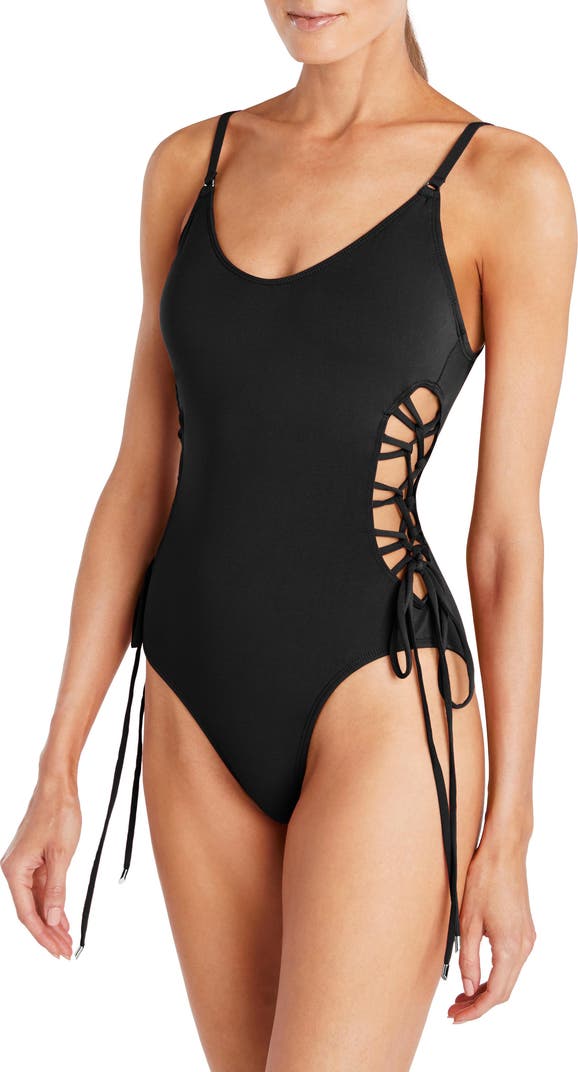 A more conservative but elegant take is this Robin Picone piece, with a V-neckline, ruching on the side to be form fitting, and strings on top and at the hips. I like this style, easily wearable with a skirt on top.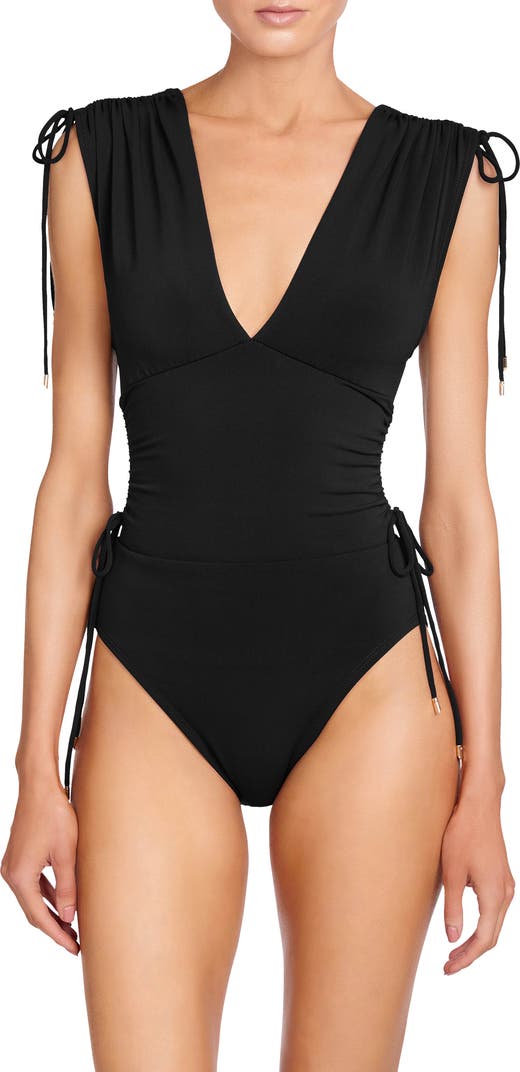 Bold Prints
Let's talk about color, lots and lots of bold colors. We saw this coming, didn't we? It's all over fashion this year. I had so much fun picking these out for you. It's pure fun and joy to look at. They are mostly bright and neon colors with florals, plunge necklines, and chevron patterns.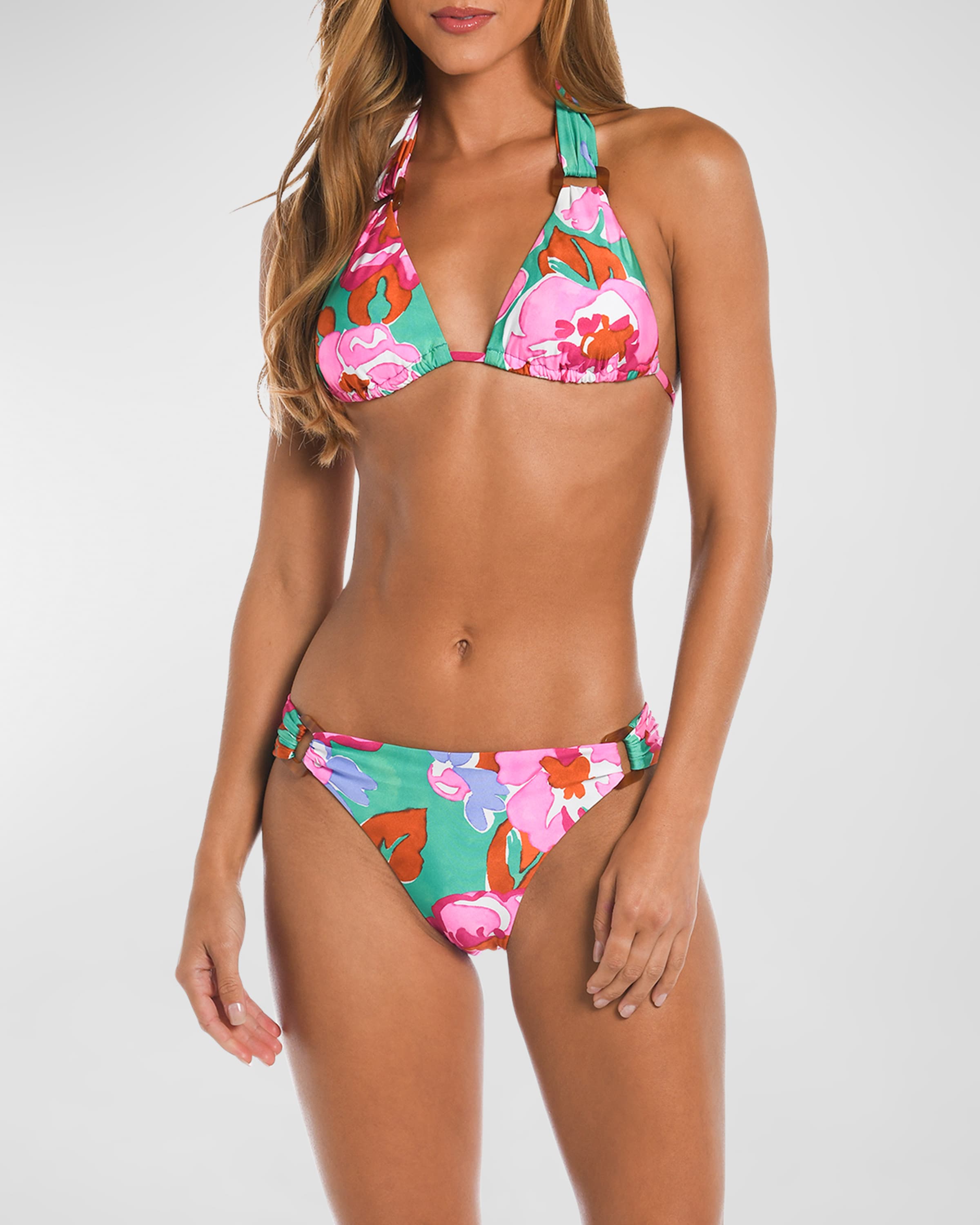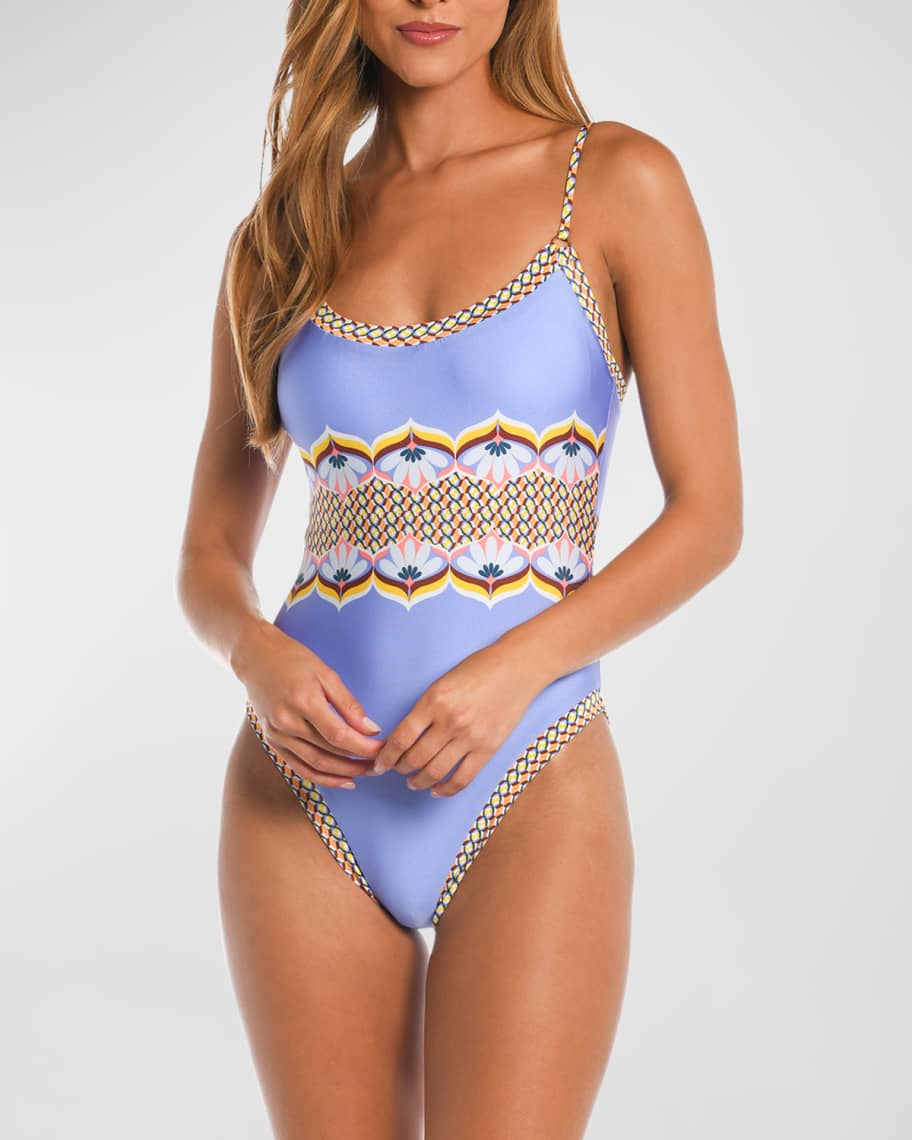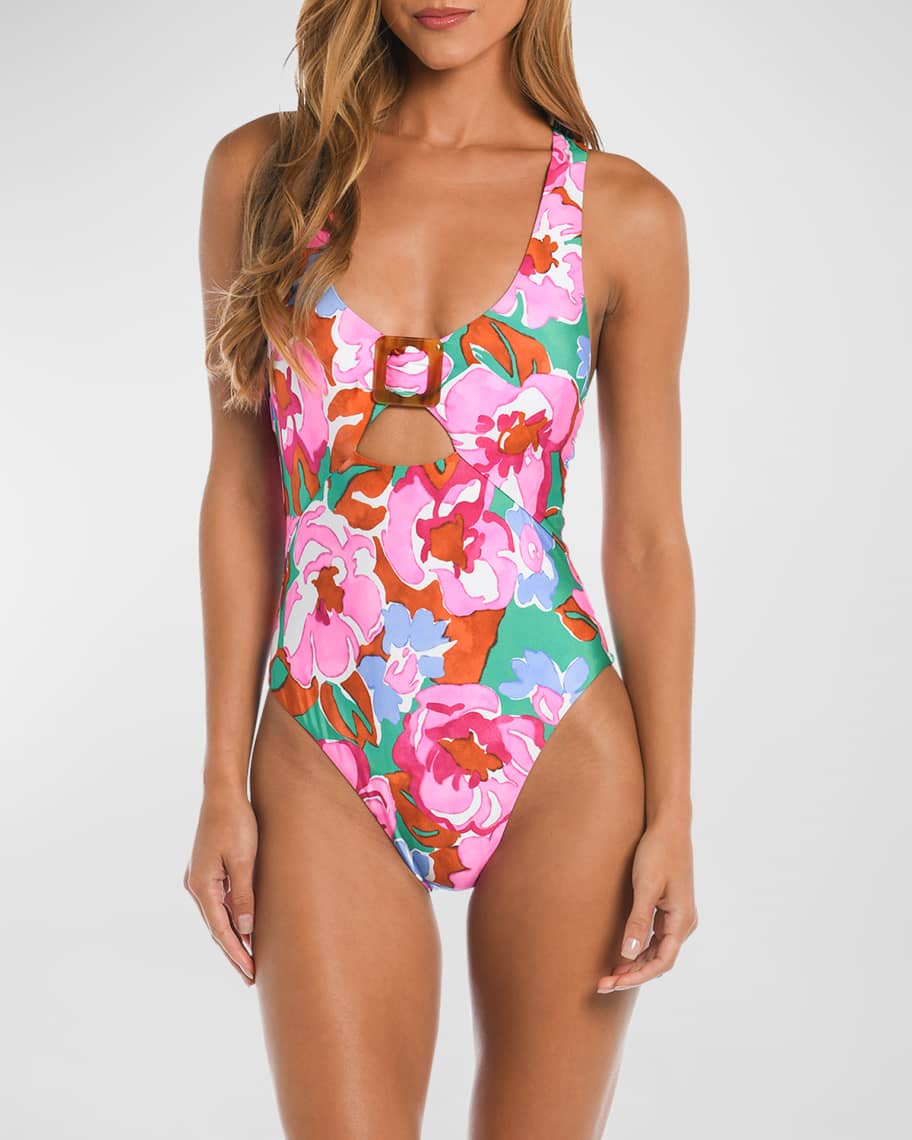 But don't get discouraged, there are plenty of pastels and toned-down alternatives for less attention-seeking, such as this beautiful V-neck Missoni piece.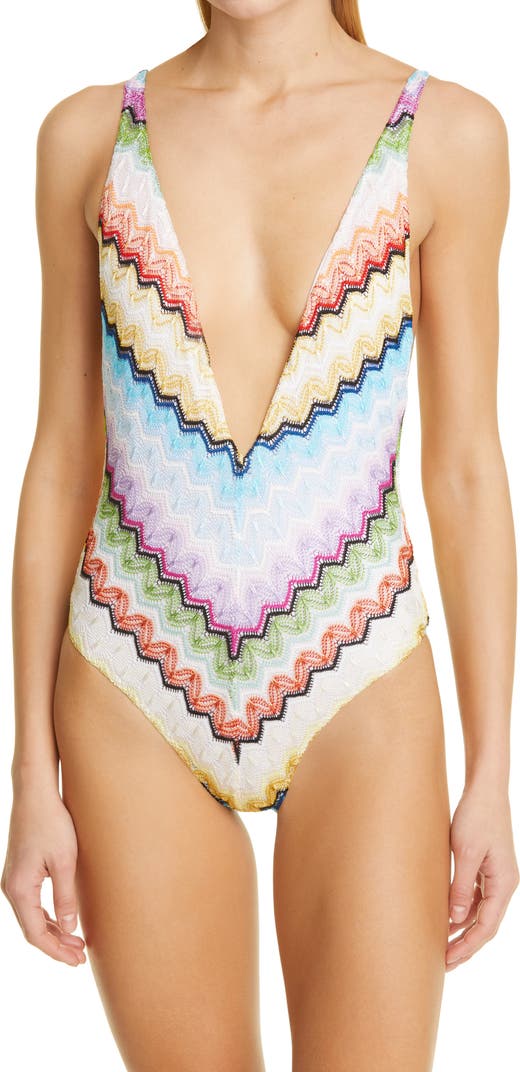 Retro
Saving the best for last, can we start looking at swimwear as an opportunity to dress up? I absolutely love all the retro pieces. While we can't wear metals and tulle in the water, we can insinuate the polished look.
This green and white framed retro swimsuit by SIR is elegance at its best.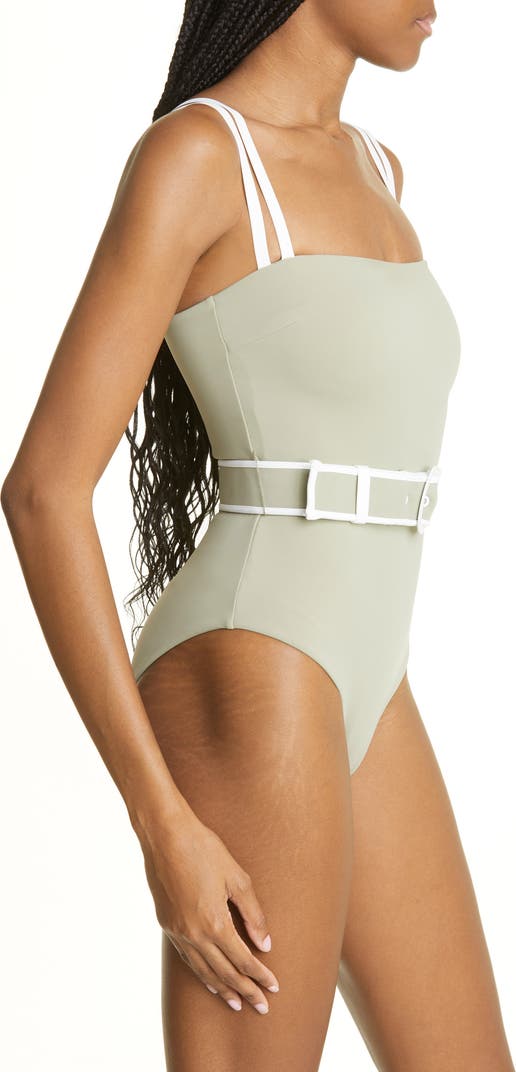 My favorite out of all is this Anthropologie neutral tie strap swimsuit. It can be used as a bodysuit on the way to the beach with shorts and a breezy buttoned shirt.

To me, this retro trend is clearly noticeable on the bottom, replacing the bikini with the boxer shorts style. A lot of coverage but it makes up for it in the fabric complexity as well as the emphasis on the waistline.
How can we look elegant in a bathing suit? First by not being overly revealing, by choosing designs that flatter us in all the right places, and to hint at elegant preppy styles, such as this one with a belt.
I hope you enjoyed seeing the new swimwear trends coming up this summer 2023. Would love to have you join our community if you are new. If you liked this post, you will like the previous ones too, where I cover more of this season's trends. There is even a post covering Audrey's timeless style! Or if you are interested in learning about the Pinterest trends, I have covered it too.