Old money aesthetic is TikTok's rebranding of the classic prep trend taking over social media. What does old money aesthetic look like and how to dress like a woman who has old money? I am excited to be partnering with LilySilk for this post to present you real outfits with four silk pieces that will blow you away.
What is Old Money Aesthetics?
This trend borrows the looks from the old school generational inherited wealth. While we all know what polo matches, sail boating, and private school uniforms might look like, these kinds of wealthy are actually frugal because they were raised to pass their wealth on. That it's not theirs to spend and waste. Their style is typically made of minimalistic, expensive, and durable pieces that never really go out of style. That's why it's called classic and timeless.
The reason why it is surging now goes back to the 2008 recession. Its aftermath was a minimalistic approach to lifestyle, and fashion was no different. The wealthy had to be less flashy. Soon after, it triggered opposition and maximalism took over. You know what this looks like: logos, monograms, and popular mainstream brands that oversaturated the market. It had its run and we are now slowly going back into simplistic elegance.
What Does Old Money Aesthetic Look Like?
Now that we understand what old money aesthetics are, let's look at some fresh designs that combine classic styles with new fabrics.
Pinstripe Shirt
The first piece I want to show you is this pinstripe classic buttoned shirt. If you remember my post, expensive outfits explained, pinstripe is one of the basic patterns that elegant women wear time and time again. It feels well made and is on the heavier side, which gives weight to the crisp look, with subtle shine.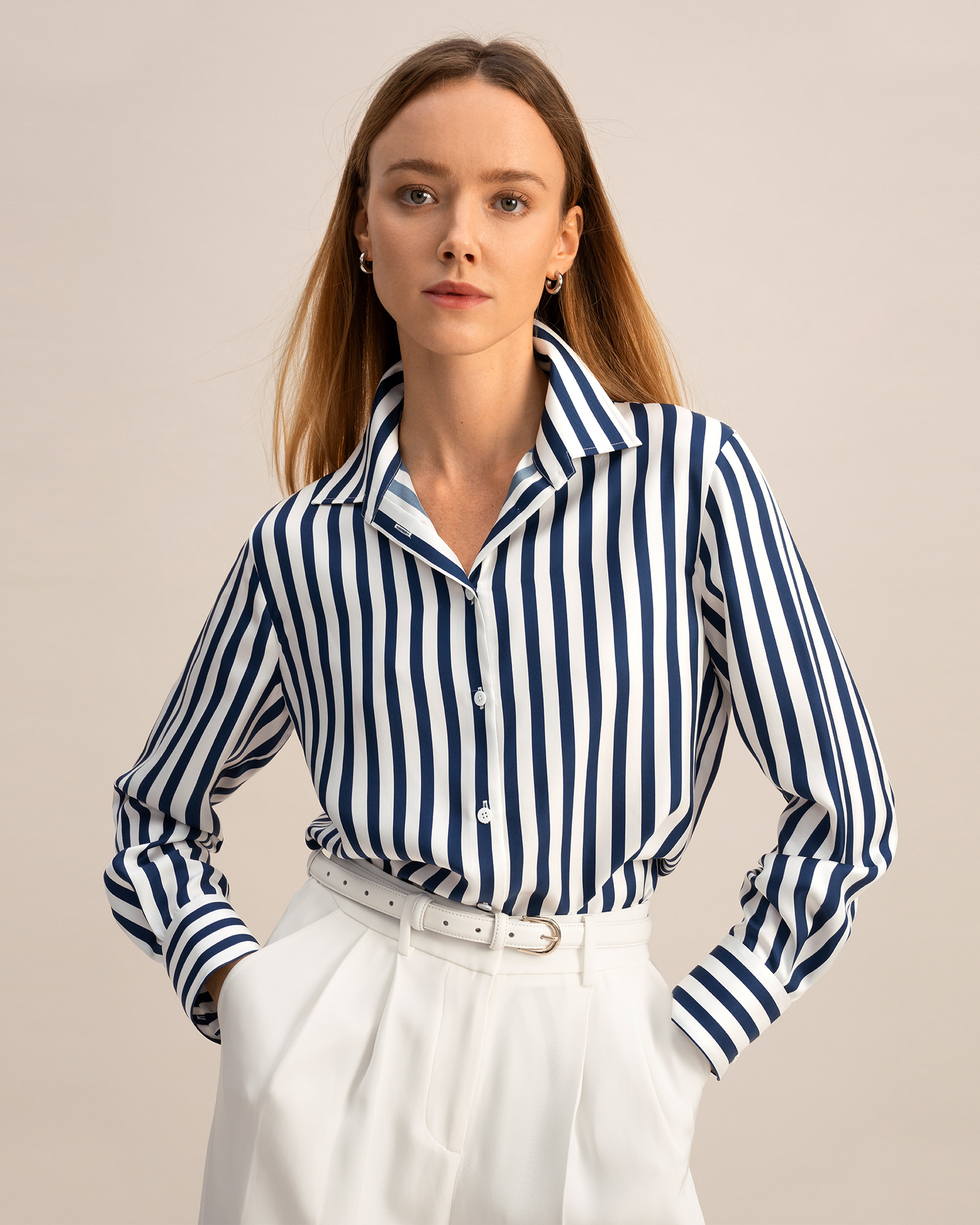 I can pair it with navy slacks for a slendering office look.The preppy white collar adds flair to the entire outfit. I particularly like the direction of the stripes as you most always want them to be vertical for a slimming and elongating effect. The feel of silk against the skin is a very luxurious sensation. I would describe it as an entire experience in itself. I love the shine for the days when I want to look like a million bucks.
Next, I can pair it with a simple straight navy skirt for a more polished uniform look. It showcases the legs, with pumps to elongate the legs even more. It's an attractive feminine outfit while looking chic and appropriate buttoned up for work, or with a few loose buttons for after-work drinks.
When you choose a style with two colors, try to choose one color out of the two for the rest of the outfit. In this case, I am picking either navy or all white.
And to spice it up a bit, I want to tell you my favorite way to dress during leisure time. A buttoned shirt with jeans and a cotton blazer. It's not a coincidence that I have them all matchy matchy in navy. It's probably my favorite color.
Don't forget about the accessories, and you are all set for looking like old money.
White Wide Silk Pants
The next centerpiece that I wanted to own for a really long time is a pair of white wide silk pants. Ladies, they are a must have for the rich, luxurious look. This pair stood out to me for the elegant flowy movement it provides when walking.
I remember last year I saw this ad for a 5-star hotel and you know how they have videos on their website now. Well, they were showing couples, of course, and I paid close attention to the woman dressed in the clip. This is the highest level of luxury we are talking about here and what she was wearing while delicately climbing out of an uber-expensive car? You guessed it, a pair of white wide silk pants and silk top. I can't forget that image. Now I can finally wear it and so can you.
A pair of white pants goes with everything. The white striped buttoned shirt, of course, but so many other options as well. For a spring look, you can also wear a wool top or a cashmere sweater. The preppy old money look is all about subtle layers. You see, I know that I am wearing an elegant silk collar underneath, I don't need to shout it to the world. It's called quiet luxury for a reason.
I also want to break down some walls here. We tend to build up these rigid images of wearing specific combinations and only for special occasions. No. Don't label anything special because the moment you label it special, you won't wear it as often.
And so, I want to tell you a casual smart look with these white silk pants. Here we have a simple classic all cotton t-shirt, a classic leather belt, and nude wedges. A delicate strand of pearls to instantly upstyle the tee, and this can easily be a spring to summer look. Remember that all white is an old rich aesthetic.
Notice how easy it is to combine with different pieces? I can wear white pants with anything on top and it looks effortlessly chic.
Silk Polo Shirt
And speaking of tees, the next piece I chose is this silk polo collared navy t-shirt. It's a classic piece in any wardrobe at any time. I am, of course, biased towards the navy, but you see, I built my collection in advance. Always think of what you already have before diversifying into colors.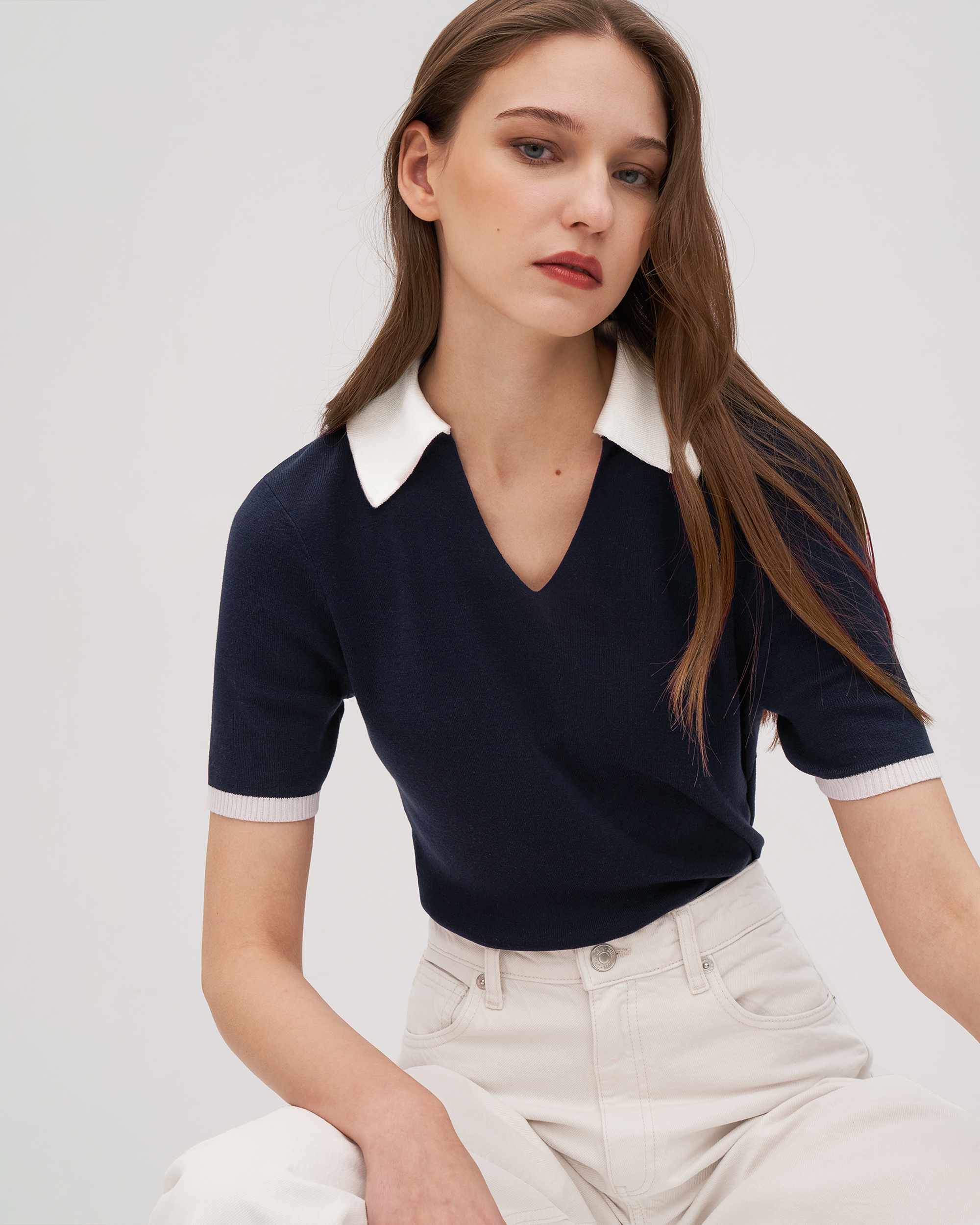 The white and navy combination is timeless and, again, dates back throughout fashion history. They are both cool tones and having such a staple in silk knit is exquisite pampering for your skin and entire mood when wearing it. The silent wealthy outfit is about high quality pieces without logos, that are not flashy but rather benefit the wearer. The main idea is that clothes are meant to please the wearer and fashion is for aesthetics. Now combining the two, you get to dress for yourself while looking pleasing to others.
Back to this lovely polo, I must confess it's been on my wish list for a really long time. I will wear anything with a collar, and I really like the contrast between the two. The benefit of a white collar is that you can wear anything on top and it will peak out for a preppy look.
Skirt
Next, I want to pair it with a skirt. Check the video. What I am wearing is actually a skort and with a nice pair of bamboo socks, and white loafers. It's a casual, sporty, chic look. I mean, how else do you dress up for a sporty event? If this is not elegant sporty I don't know what is.
I like to match the active outfits with stud earrings that are minimal for added shine, even small pearls. And for my jeans ladies, of course, I would wear them with my Levis. Make sure they are a dark wash, no raw hams, no fading, simple and elegant. You can throw on a blazer when chilly. There are so many variations here. It's a staple piece that you can wear with all cool shaded bottoms.
Floral Blouse
And finally, we have arrived at the eye candy for this video, this lovely floral blouse by LilySilk. This blouse has been on my wish list since the first moment I laid my eyes on it.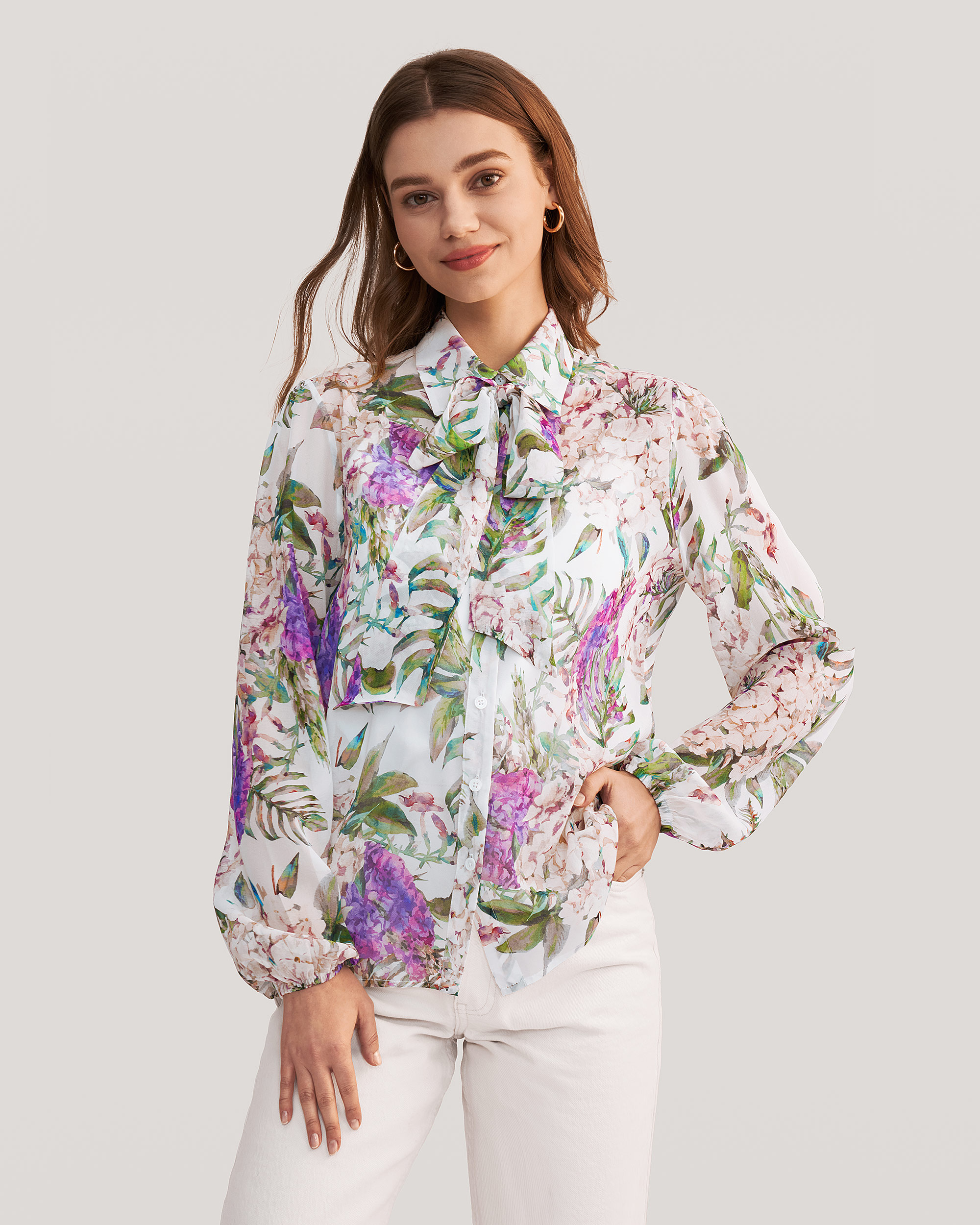 Let's talk about what to wear underneath. It has a thin sheer feel to it, unlike the striped shirt, so a nude or white cami is preferred. You want a nice smooth canvas for the flowers to be displayed on. Now depending on your comfort level, you can pair this blouse with white pants or for a professional office look, I have this straight skirt suit with the matching blazer. This is a very elegant, classy office look for high level meetings or a client visits.
For a casual look I would combine them with a fitted pair of straight white jeans. White again, but jeans. This is your go-to weekend look in style. For shoes, try on nude wedges, or white platform slingbacks for more height.
Now, is it a coincidence that I chose a floral pattern in spring? Not really. I've seen pictures of this blouse being worn and I must say they don't do it justice. It's an elegant old rich feel that it brings to the outfit. Not many patterns do this.
Silk Scarf
My absolute favorite thing about the blouse, in addition to the feminine pattern, is this silk scarf. It's detachable and can be easily tied to form this pussybow look.
Remember in the Audrey Hepburn post I talked about the rich look? There are so many variations you can wear the silk scarf: a hair tie, a handbag accessory, or even as a belt.
A Few Words About LilySilk
You see, I've been wearing LilySilk since I discovered them about three years ago. They specifically talk about the quality of silk, how it's not the same everywhere. I can attest to this. I've also tried other brands too; they felt thinner.
I've also learned about the benefits of silk for combating wrinkles and hair damage that occurs while we sleep. My entire family has been using silk pillowcases for about two years now. It's mostly to avoid tangled hair for the kids and, well, I have very thin hair, so anything that can help reduce breakage I will try.
Have you seen the interview Ann Hathaway gave wearing the latest floral blouse by LilySilk? Yes, this was one of the reasons I first tried silk, so many actresses came out wearing LilySilk shirts and pajamas from Gweneth Paltrow to Reese Witherspoon, Nina Dobrev, Megan Trainor, and the list goes on. It took me a while to convince myself to spend on a quality silk shirt, but once I did, I couldn't go back.
And, speaking of prices, I have a discount for you. It's Chicquette12 for 12% off on everything at LilySilk. You can also use Chicquette30 to buy one and get another at 30% off. Thank you to LilySilk for supporting this blog.
Ladies, the last tip if you want to look old money is to let others take pictures of your outfit and post them on social media. Only the newly rich take and post selfies about themselves.
If you enjoyed the old money aesthetic explained, you will also like the previous post explaining expensive outfits. For more fashion tips and trends follow the blog or subscribe to my YouTube channel!