Fashion is constantly changing, with trends coming and going in cycles. If you've ever wondered why your closet is suddenly full of items you haven't worn in 10 years, then you'll want to read this post and learn about the five life cycles of fashion trends.
Fashion trends are a popular topic I cover on Chicquette. And, I think it's important to understand the stages of a trend cycle to make better choices. So, grab your notepad, because it's time to explore the world of fashion!
Benefits of Understanding Trend Cycles
Here are some reasons why I think it's beneficial for us, as consumers, to understand the fashion trends lifecycles: 
Making Informed Purchases
By knowing which stage a trend is in, we can decide whether to invest in a particular item or not. For example, if a trend is in its decline stage, it may not be worth spending a lot of money on a piece of clothing or accessory that may soon go out of style.
Staying Up-to-date
Once we understand the trend lifecycle, we can use this knowledge to stay up-to-date on the latest trends. It enables us to keep an eye on trends as they move through the lifecycle, stay ahead of the curve, and be among the first ones to adopt new trends.
Saving Money
Understanding the fashion life cycle also helps us save money. We can wait for a trend to reach its decline stage before purchasing items, because at that moment, they are likely to be available at a lower price point.
Reducing Waste
With this knowledge, we can avoid purchasing items that are likely to fall out of fashion quickly. Thus, we can reduce the amount of clothing and accessories we discard. This is especially important given the environmental impact of fast fashion.
I hope you learned something new today and now it makes more sense why we see some trends overlap, or when I share about upcoming trends that are not available to shop for yet, or why the old trends are still on the market.
There is a difference between the new trends coming in the upcoming season vs
what we currently see on the market. They are two separate waves, one is rising, while the other is declining.
Stages in a Trend Cycle
A fashion trend's life cycle can be divided into five stages: introduction, rise, peak, decline, and obsolescence. Here is an in-depth view of each stage:
Introduction Stage
This is the initial stage where a new fashion trend makes its debut and starts gaining traction among consumers. This could happen in a few ways such as a new designer showcasing their latest collection, a celebrity sporting a new style on the red carpet, or a fashion blogger featuring a new look on their platform.
Once the trend has been introduced, it starts to gain attention and generate buzz among consumers. People begin to take notice of the trend and may start discussing it on social media or fashion forums. At this point, it's important to note that the trend is still relatively unknown and only a small group of early adopters may be embracing it.
Let's take a look at an example of a fashion trend in the introduction stage – the shoulder pad trend. This trend, which was popularized in the 1980s, has recently made a comeback. We first started seeing this trend on the runway, with designers such as Balenciaga featuring oversized shoulder pads in their collections. As it started gaining traction, we saw more and more celebrities and influencers embracing it.
For example, Hailey Bieber has been wearing padded shoulder blazers since 2018.
Recently, she wore a plunging padded shoulder blazer as a mini dress on a date with her husband, Justin Bieber. These sightings helped increase the trend's visibility and generate more interest among consumers.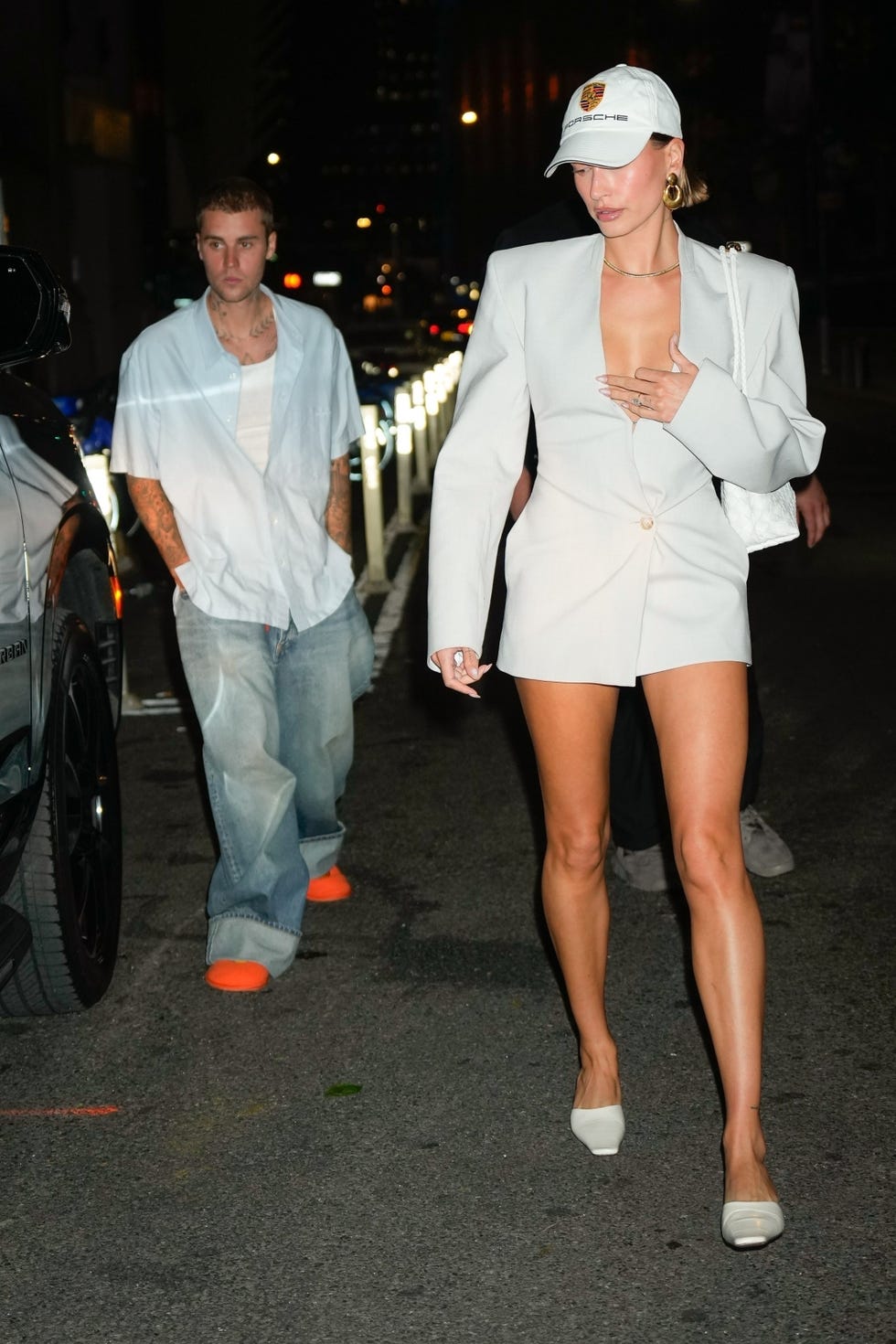 Rise Stage
The second stage of the life cycle is a trend's rise to popularity, in which a style evolves from simply "new" to "trendy". Today, this often happens with the help of celebrities and influencers who popularize a style either by a paid promotion or genuine appreciation. Stylists and media strategists often play a big role in this form of popularization, calculating which influencer will wear what.
For instance, the widely-followed pop stars Ariana Grande and Olivia Rodrigo began wearing platform heels in their social media posts and music videos at the start of 2021. By its end, trend forecasters noted a 26% rise in the shoe's popularity. Especially among women in Europe between Winter 2020 and Winter 2021. The original shoe worn by the pop stars had been created by fashion houses Valentino and Versace. But just one year later, retailers like ASOS were carrying platform heels from a range of fast-fashion brands.
Momentum such as this explains how a trend can go from celebrity-favorite to mainstream-favorite. Celebrities are largely responsible for diffusing trends to the general public. Trend diffusion is when a brand creates a 2nd collection at a lower price point to be more accessible to the general population.
We saw with the platform heel how high-fashion trends also propagate through copying, where fast-fashion brands repeat the trend themselves for a wider customer base. Brands like Pretty Little Things and ASOS now sell a low-cost version of the Valentino and Versace platform heel, allowing a wider consumer base to access and further popularize the trend.
This also explains why high-fashion designers offer diffusion lines to sell similar products at lower prices. The goal is to remain competitive at the hands of mass-market brands who often copy their designs. You see, while luxury brands are innovative and introduce new trends, if they maintain high prices the masses can't buy them, and they lose a big chunk of the market to the trend diffusers.
Peak Stage:
The peak stage is where a trend reaches the climax of its popularity among a mainstream audience. Most major retailers now carry the trend and make it accessible to all consumer types. Often at lower prices than during the increase stage. As a result, most luxury brands stop carrying it any longer.
This is an odd time in a trend's life cycle, because the length of its peak is rather unpredictable. This is where trend forecasters can provide useful data to fashion brands who must know from season to season what trends picked up in mass popularity.
Some trends, like the kitten heel sandal, were popular for only one season in SS21. Research data revealed an 18% decrease between Summer 2021 and Summer 2022 among American women. A trend that's predicted to decrease in popularity the next season won't be included in a fashion house's upcoming collection, leaving more room for new trends.
Here, high-fashion and luxury brands tend to be at least one season ahead of their bridge and fast-fashion counterparts. This is because they're often the ones introducing new trends, and they tend to steer away from mainstream appeal in order to maintain their "trendsetter" status. At its peak, a trend is usually no longer carried by luxury brands, instead fast-fashion brands push these styles.
Decline
The decline stage closely follows the peak stage because it lives behind the fine line of market oversaturation. A trend's widespread popularity is often its downfall, because consumers tend to grow tired of seeing too much of a trend, or start to feel too "mainstream".
The previously-mentioned kitten heel is a good example of this. With external factors influencing the trend's popularity, namely the Sex and the City reboot and the return of Y2K fashion, the kitten heel style rose so quickly that consumers grew bored of it just as fast.
When this happens, luxury brands keep the trend for one or two seasons only, and retailers begin to sell the trend at discounted prices before eventually phasing out the trend entirely.
Let's take a look at an example of a fashion trend in the decline stage – acid wash jeans. This trend was popular in the 1980s and early 1990s, but by the mid-1990s, it had already started to decline in popularity. In recent years, we've seen a resurgence of 80s and 90s fashion, but acid wash jeans have not made a comeback to the same extent as other trends from that era. As a result, we're starting to see less and less acid wash jeans in stores and on the streets. Brands and retailers have moved on to newer trends, and the remaining inventory is being sold at discounted prices. While there may still be some die-hard fans of acid wash jeans out there, it's clear that the trend has reached its end and is no longer relevant in the market.
In some cases, a trend may experience a recovery or revival many years later, but this is rare. For the most part, once a trend has reached the decline stage, it's unlikely to make a comeback anytime soon.
Obsolescence Stage:
During the obsolescence stage, a fashion trend begins to lose its appeal and popularity. Consumers start to move on to newer trends, and the trend that was once so popular starts to feel outdated and overdone. This decline can happen gradually or quickly, depending on the trend and the market. As the trend loses popularity, we start to see it less frequently on the runway, in fashion magazines, and on social media. Fashion brands and retailers begin to phase out their collections featuring the trend and start focusing on newer trends that are gaining traction in the market.
Let's take a look at an example of a fashion trend in the obsolescence stage – skinny jeans. For many years, skinny jeans were a staple in the fashion world and were worn by countless celebrities and influencers. However, in recent years, we've seen a shift towards looser, more relaxed fits, such as wide-leg jeans and mom jeans.
As a result, skinny jeans appear less on the runway and in fashion magazines. Brands and retailers are also starting to phase them out in favor of newer trends. While some people still can't get over the trend, it's clear that the skinny jeans trend has peaked and is on the decline.
In some cases, a trend may become so overdone and saturated that it becomes a fashion faux pas. This is when a trend has become so unpopular and outdated that it's no longer considered stylish or fashionable. For example, in the early 2000s, trucker hats were a huge trend, but they eventually became so overdone that they fell out of favor and became a fashion faux pas.
Factors Affecting the Cycle of a Trend
There are many factors that impact how a trend life cycle progresses.
Technology and Social Media
The current life cycles of fashion trends have changed. Technology and social media contribute to them being shorter and less predictable than in the past.
Condensation
For a long time, it was said that fashion trends circle back every two decades. Twenty years was enough time for a trend to rise to popularity, fade away for long enough to be forgotten, and return again with a modern twist.
While the 20-year cycle remains true to an extent, innovative technologies and social media have drastically condensed the life cycle of trends today. Styles from every decade make appearances at seemingly random moments, and several styles can be popular at the same time.
Evolved Merchandising Technologies
To understand this factor, think about the phone app you use to shop. It keeps track of what you and I buy, makes product recommendations for us, but more importantly it gives the retailers information about popular products, inventory levels, and what they should restock. It also sends push notifications and offers discount codes to incentivize us to shop based on what we already like and purchased.
In stores, the cash register is a complex AI which can also store and provide trends to the retailer based on shopper habits.
All these improvements have greatly reduced the speed-to-market, and along with social media they make it so trends rise and fall overnight.
Share if you think someone else might find this information helpful. For more videos from the explained series I have an entire playlist on fashion and style tips. Or, for the latest trends check out my next post here, or the previous one about top summer dresses for 2023.