Ah, the summer season. Long days filled with sunshine, afternoons spent at the beach, and nights under the stars. It's the perfect time to break out the summer dresses. It's no surprise that the summer dress is a fashionable staples. It's classic, elegant, and looks great with almost any accessory.
For 2023, there are some must-have styles that are sure to be seen everywhere. Want the scoop? Here are the top 10 wearable summer dress trends for 2023:
Bold Colors
Vibrant and bold colors are in style for summer 2023. Think sunny yellows, hot pinks, electric blues, and bright oranges.
Not shy to make a statement? This Mango block color dress combines a few of the summer colors boldly. It's most definitely a fun summer look if you don't mind wearing it braless.
Another version of a bold, more wearable color is this scalloped dress by Anthropologie. I love this dress for its elegant look. Everything from the oversized collar to the buttons, closure, and the silhouette. It's absolutely gorgeous.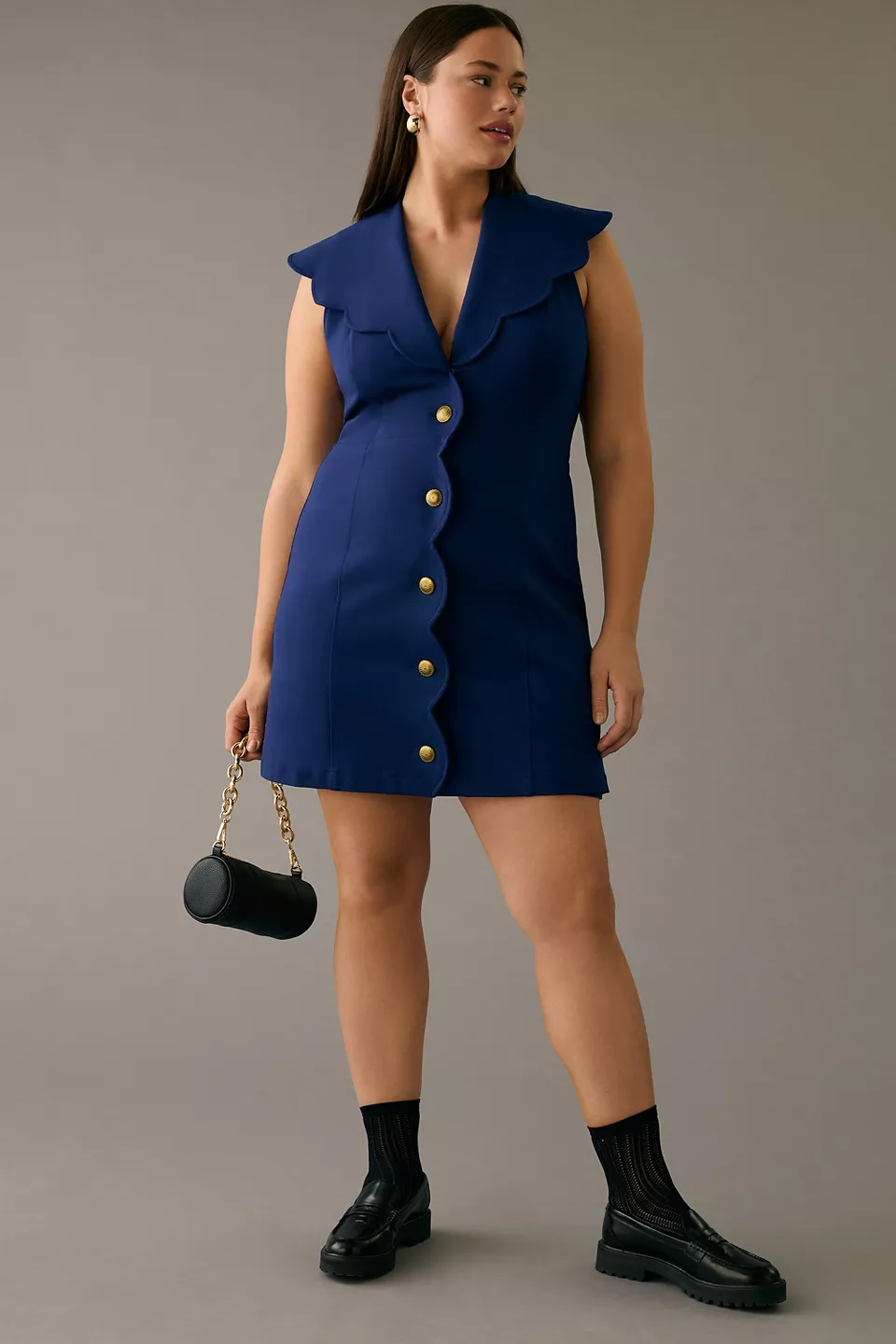 Ruffles and Frills
Ruffles and frills are back in style for summer 2023. These playful details add a touch of femininity and romance to your look.
This Reformation dress with the back button details is a perfectly romantic white summer linen dress. The scoop neck and simple lines make it a timeless piece that doesn't get attached to a specific year's trend. Meaning, you can wear it summer after summer and look chic while doing it.
If looking for ruffles, we have this white mini dress by Mango. It has long sleeves, embroidery, and a lot of volume between the ruffes. But the shortness balances out the overall appearance. You can easily wear it with a pair of gladiator flats or strappy sandals for a more seductive look.
Relaxed, Flowy Silhouettes
Loose and breezy dresses are the perfect choice for hot summer days. In 2023, we're seeing a move towards relaxed, flowy silhouettes.
This trend is a favorite in dresses, as you can clearly see in this Favorite dress by Treasure and Bond. It has simple spaghetti straps, flows down in a triangle and is just a tent-like dress. I don't see anything flattering about it, but that's me. Some women like this type and that's OK. Enjoy it. I like a little shape, a little something that shows my figure not to feel like I am hiding behind a curtain.

Here's my version, again from Nordstromp affordable cotton A-line dress. Simple, monochromatic, but has a little bit of tailoring, and plenty of vibrant and muted colors to choose from. I especially like that I don't need to hide my bra or wear a strapless one, which is my least favorite.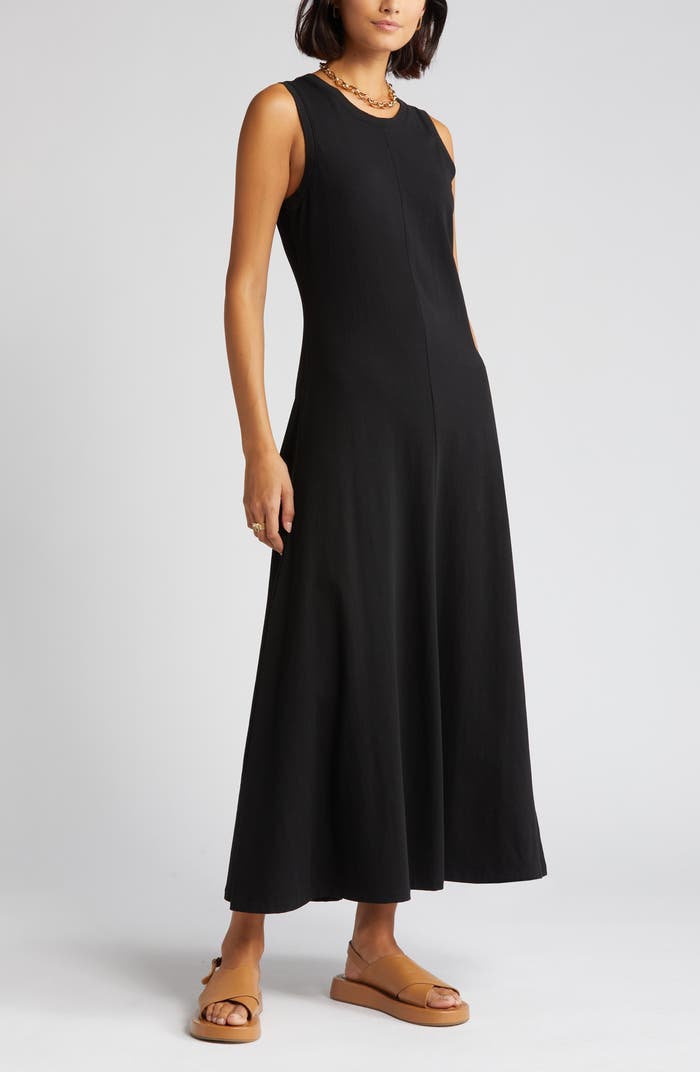 Another option, still a relaxed fit, is this Treasure and Bond smocked midi dress made of 100% viscose, which is a sustainable fabric. It's also a cheaper and more durable alternative to silk. Lovely prints and plenty of colors to choose from. I did mention it's affordable, right? What else can we ask?

Unique Prints and Patterns
Summer 2023 is all about unique prints and patterns. From bold florals to abstract designs, there are plenty of options to choose from.
This neutral shade in feather print by Banana Republic is a full silk maxi dress option for a light, but full-coverage look.
Beautiful tailoring with the empire waist emphasis, and a V-neck. It's one of those dresses that make you feel feminine, yet it's not revealing and you can move around carefree.
Cut-Outs
Cut-out details are a big trend for summer 2023. They add a touch of sexiness and playfulness to your summer dress. They are not my favorite choice, but never say never.
If you are going to do the cut-out trend, do it right. The most popular version is with the front uniting the top with the bottom. I really like this design with the V shape. It's very flattering and shaping. The contrast in colors, yet the wearable neutral shade. You can actually wear a normal bra without revealing it. It's a beautiful style made of cotton and lyocell with lining. You can tell it's well made for style and comfort.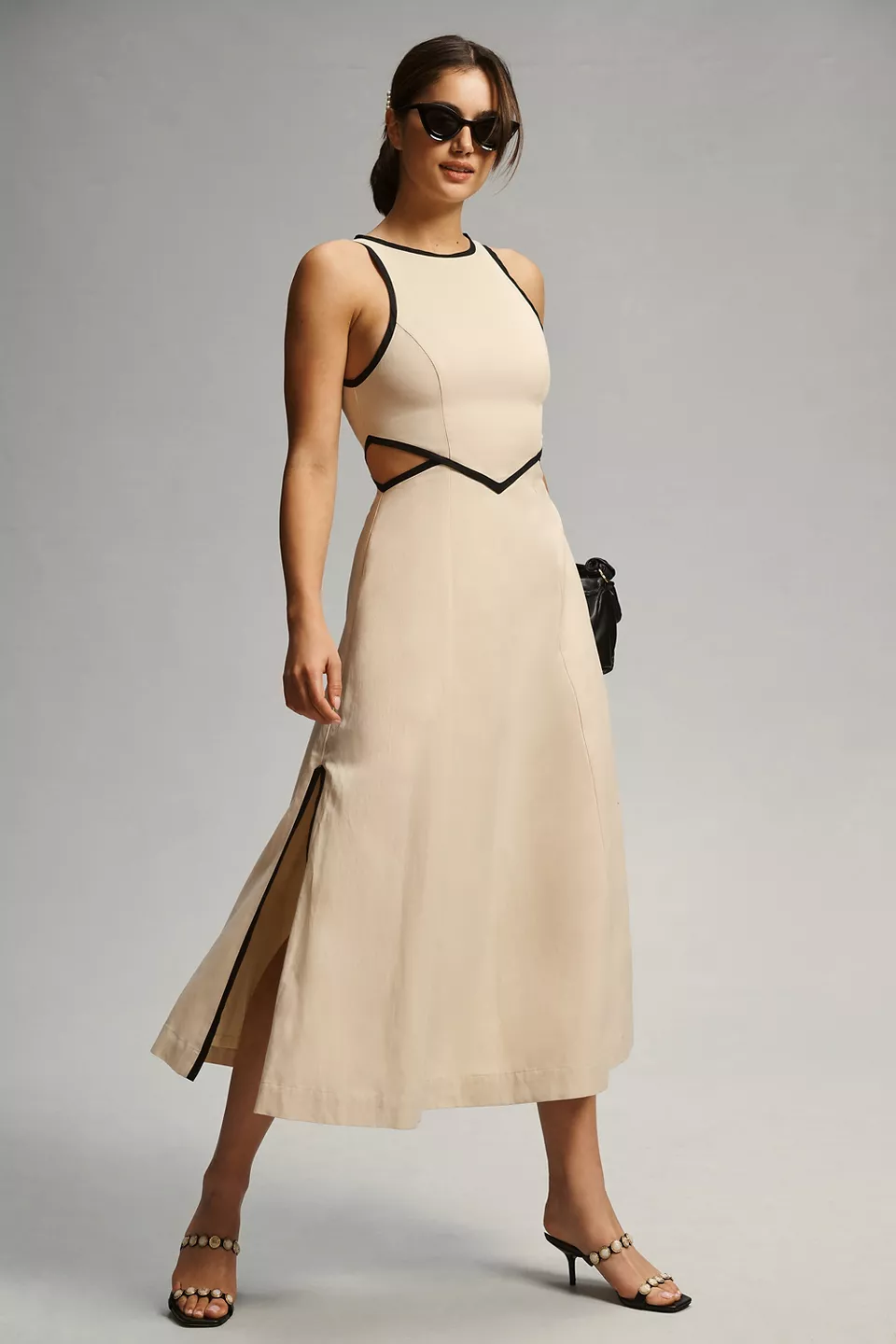 For a more casual, relaxed, and forgiving fit, this blue knot dress is for you. It's a straight design. It comes with a side zip and flared out bottom if you don't want to showcase your silhouette but still want to look edgy.
Off-the-Shoulder
Off-the-shoulder dresses are still going strong for summer 2023. They're a great way to show off your shoulders and neckline while staying cool in the summer heat.
This Vince Camutto floral dress is everything you need this summer. The layered ruffles with both shoulders out, creates an alluring look. Remember that the neck and the shoulders are highly sought after by men. It's attractive and seductive without showcasing all the goods. This playful feminine look that accentuates the waistline while concealing the rest. It's also a great dance dress. I can totally see this twirl around all night.

You will see the variation of one shoulder in most dresses this summer. I've already seen it being worn on red carpets by most celebrities. For a more figure hugging look, this style is one of the most popular trends right now.

This particular one from Eliza J is shaped very well. I must put the spotlight on her for a moment. If you are looking for a brand that makes feminine, lined, and well tailored dresses, this is one of my go-to brands. Some of the best dresses that I have, not only durable but flattering too, are made by her. And this dress, its sole purpose is to give you curves. Great design, fun to wear. Just look at it, it's a big yes for me.
Shirt Dress and Midi Length combination
Midi length dresses are a classic summer staple, and still in style for 2023. They're perfect for everything from backyard barbecues to summer weddings.
The shirt dress in particular is very popular this season across most brands. With either a flowy relaxed look without any belt constraints, such as this linen cream color, or the traditional buttoned silk for a more shaped and smooth feel against your skin.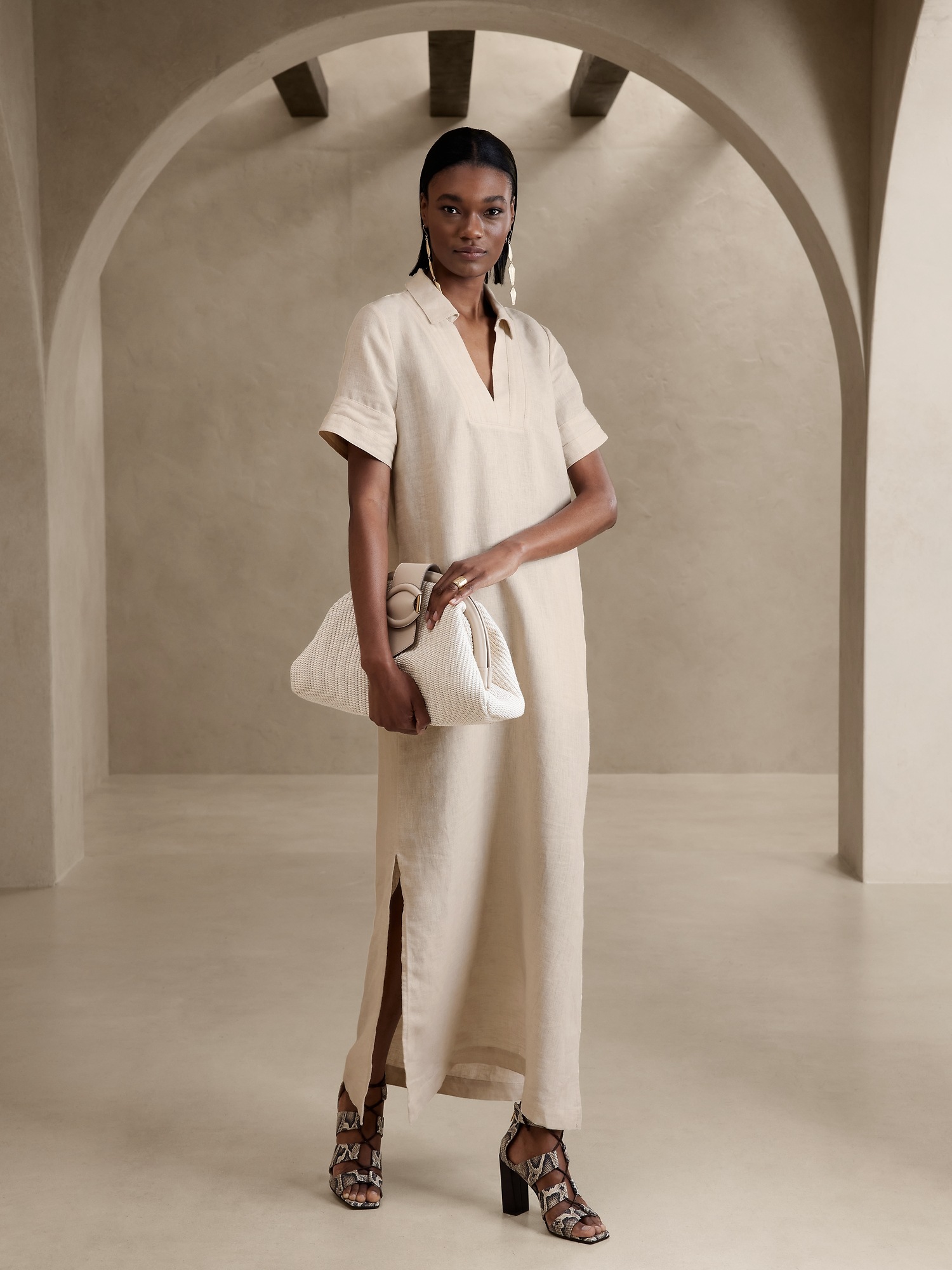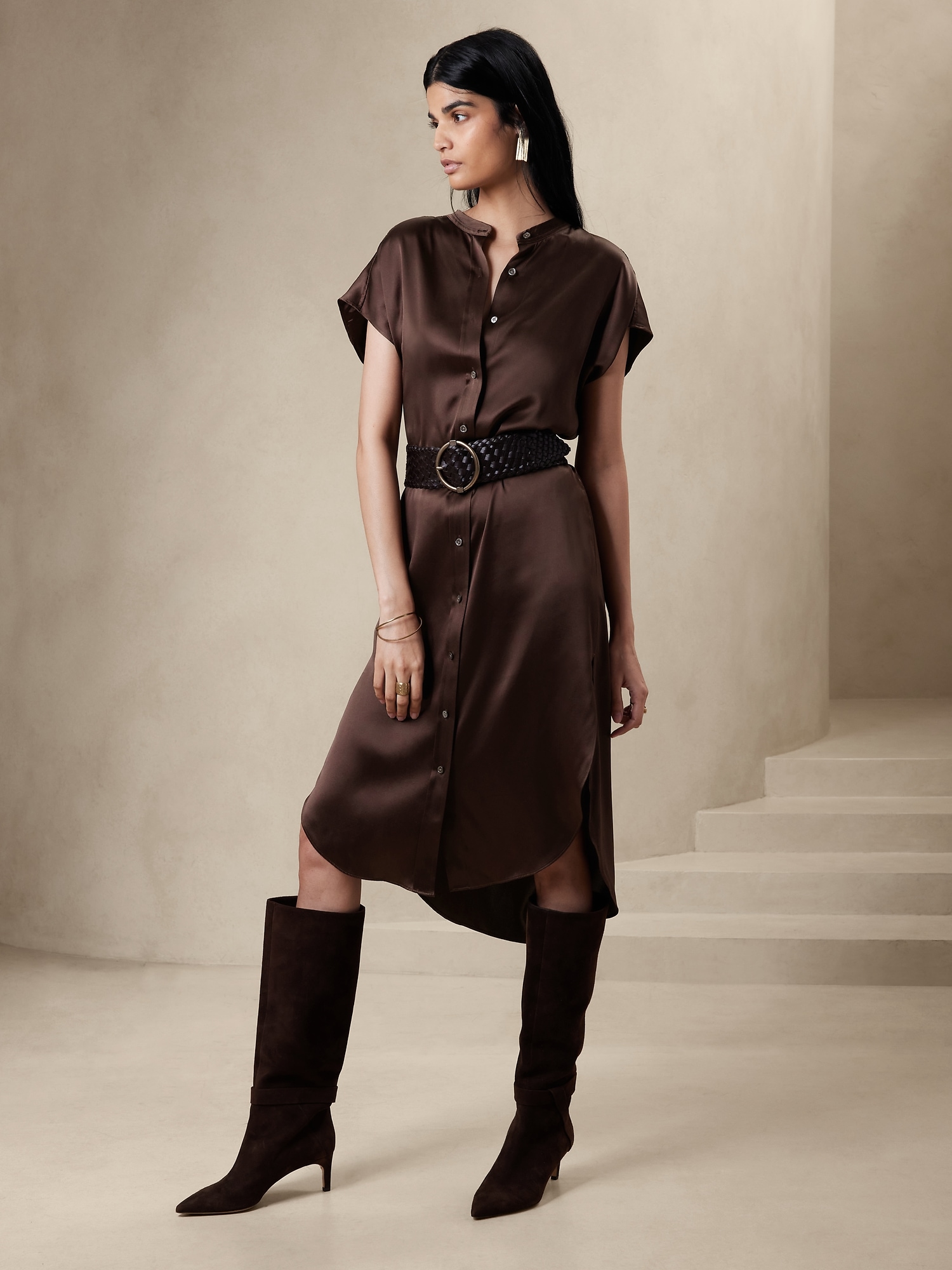 For a casual look, this linen and viscose blend is a staple in all summer wear collections. It's the dress that is easy to style, has a forgiving, relaxed look, but with the waist pulled together. From the tailoring of the natural fabrics, to the collar, and the classy buttons, this is a comfortable and elegant pick. It's an understatedly polished look without overdoing it.
Sheer Fabrics
Sheer fabrics are a big trend for summer 2023. They add a touch of sophistication and sexiness to your summer dress.
I looked high and low to show you a wearable sheer dress and this is what I found. It's an obvious sheer, which doesn't pretend to be a regular dress. Where some of it is revealing, the straightforwardness of it is what I like. It's up to you where to wear it. I opt to overdress rather than underdress and this one I see as a stylish option at a resort while on vacation, or at the beach.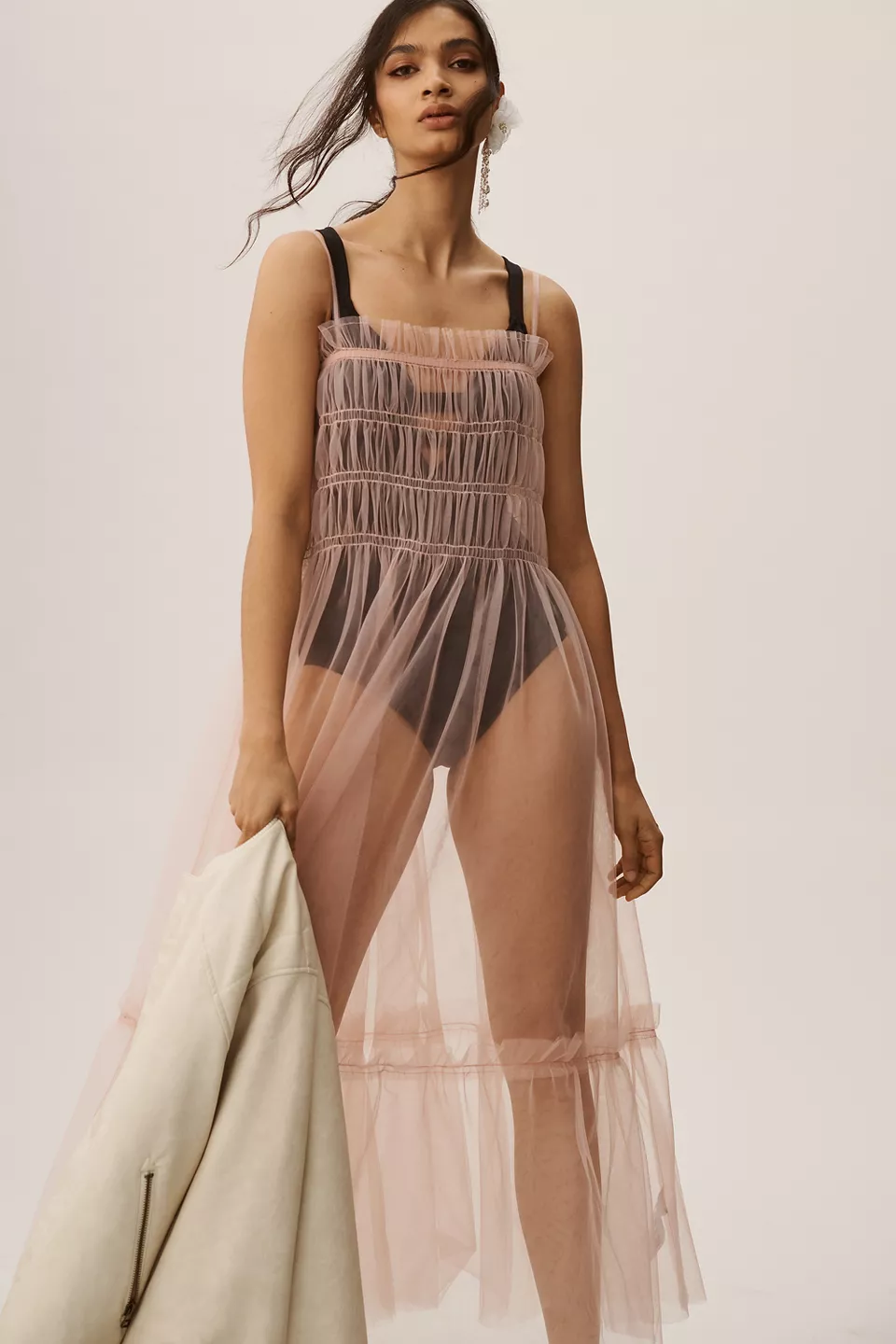 Trust me, while everyone else is wearing a bathing suit by the pool, you will be the most stylish woman in sight. I like the ruffles and design even though it's see-through, it's a feminine romantic piece to wear on top of one piece.
Another front open version is this delicate ombre effect with gradual shades in sunny yellows to pink and red. A stylish throw to uplift any swimwear.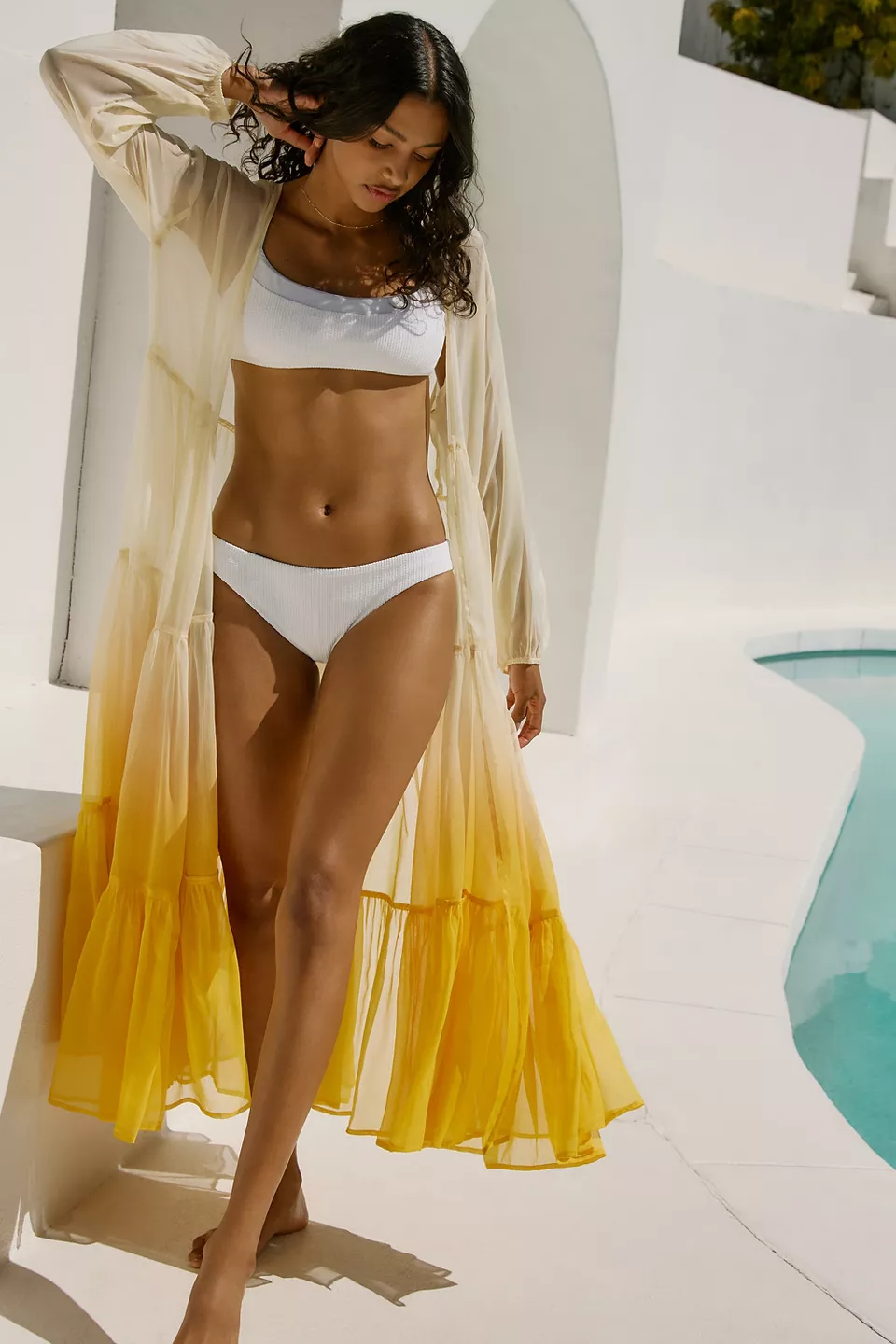 Bohemian
Bohemian style dresses are still popular for summer 2023. Think flowy maxi dresses with floral prints, embroidery, and lace detailing. This Farm Rio dress is rich in details. From the delicate beaded straps, the sweetheart neckline, and the floral embroidery motif of the palm trees, it looks like a work of art. I like summer dresses that not only look airy, but feel breezy as well. This one has a design with holes for added comfort. No one wants to sweat while looking like a goddess. You can easily wear it midi with flats, wedges, or heels, and look stylish in all.

This blue Mango dress is not only the IT color and style for this summer's trends, but it's an all-cotton piece designed for comfort. I like the shirt collar design, which, combined with the cool tone, makes it a trend-resistant style that can be easily incorporated with most pieces you already own.
Mini-Dress
The mini-dress is back with a twist. These are baby doll style minis, with extra volume. Here is a pink linen version for an easy, breezy summer look.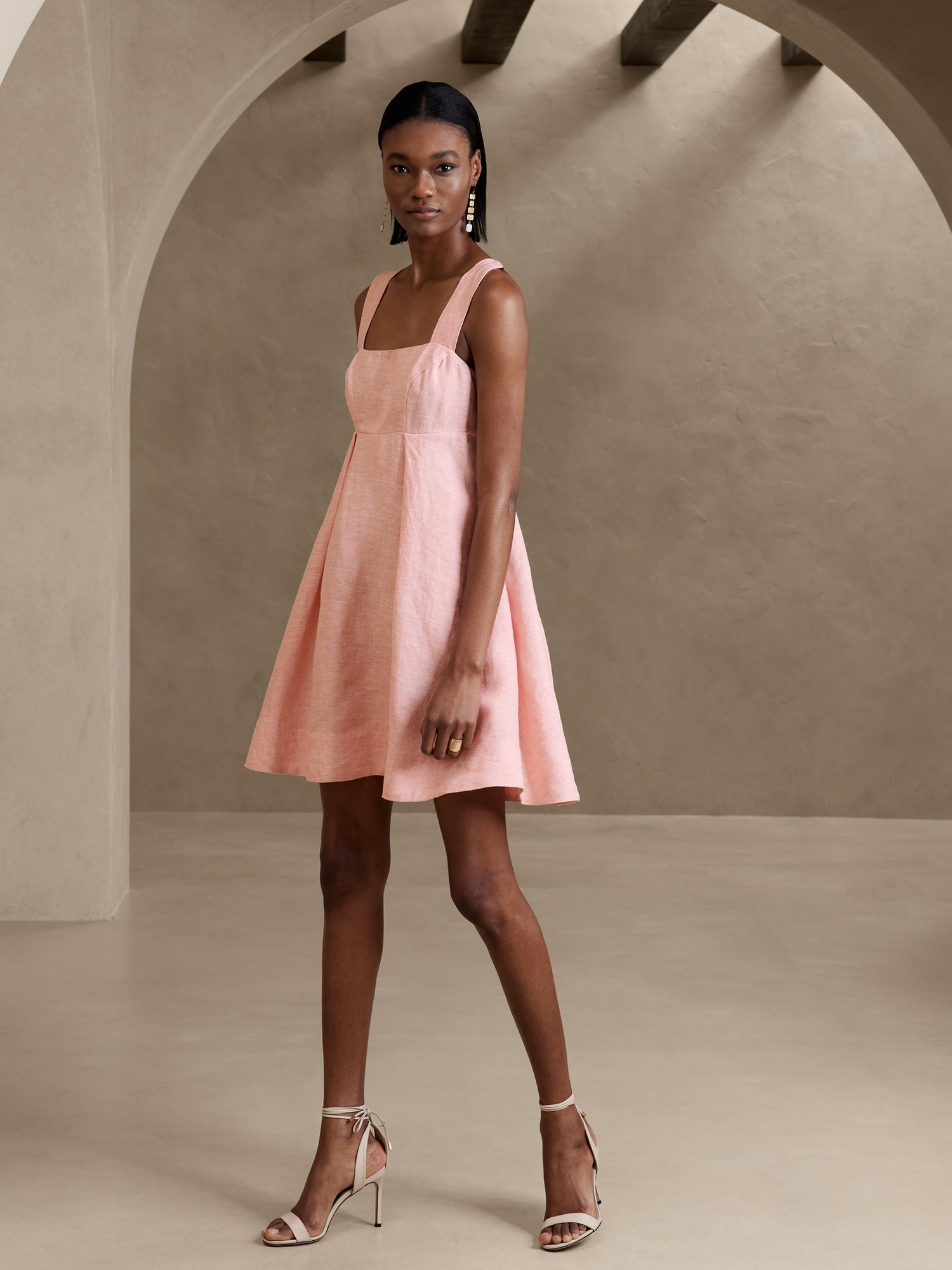 Combining more fashion trends, here are the patterned angled shapes we've been seeing so far this year in spring collections too.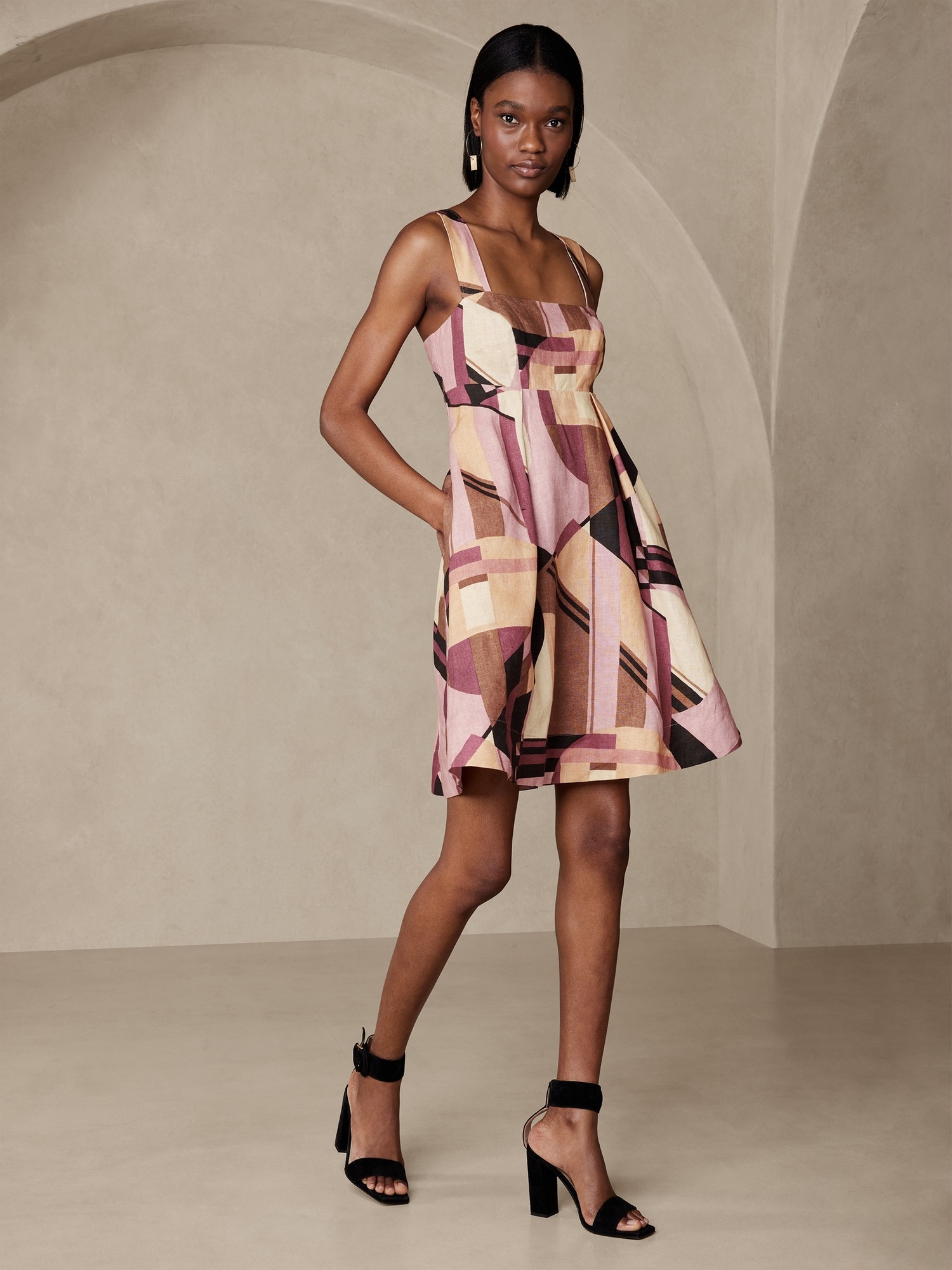 And then, we have the V-neck style, which I find more fitting for smaller breasts. The baby doll is more of a balconette shape which provides lift, while the deep V has less bounce, but more side coverage.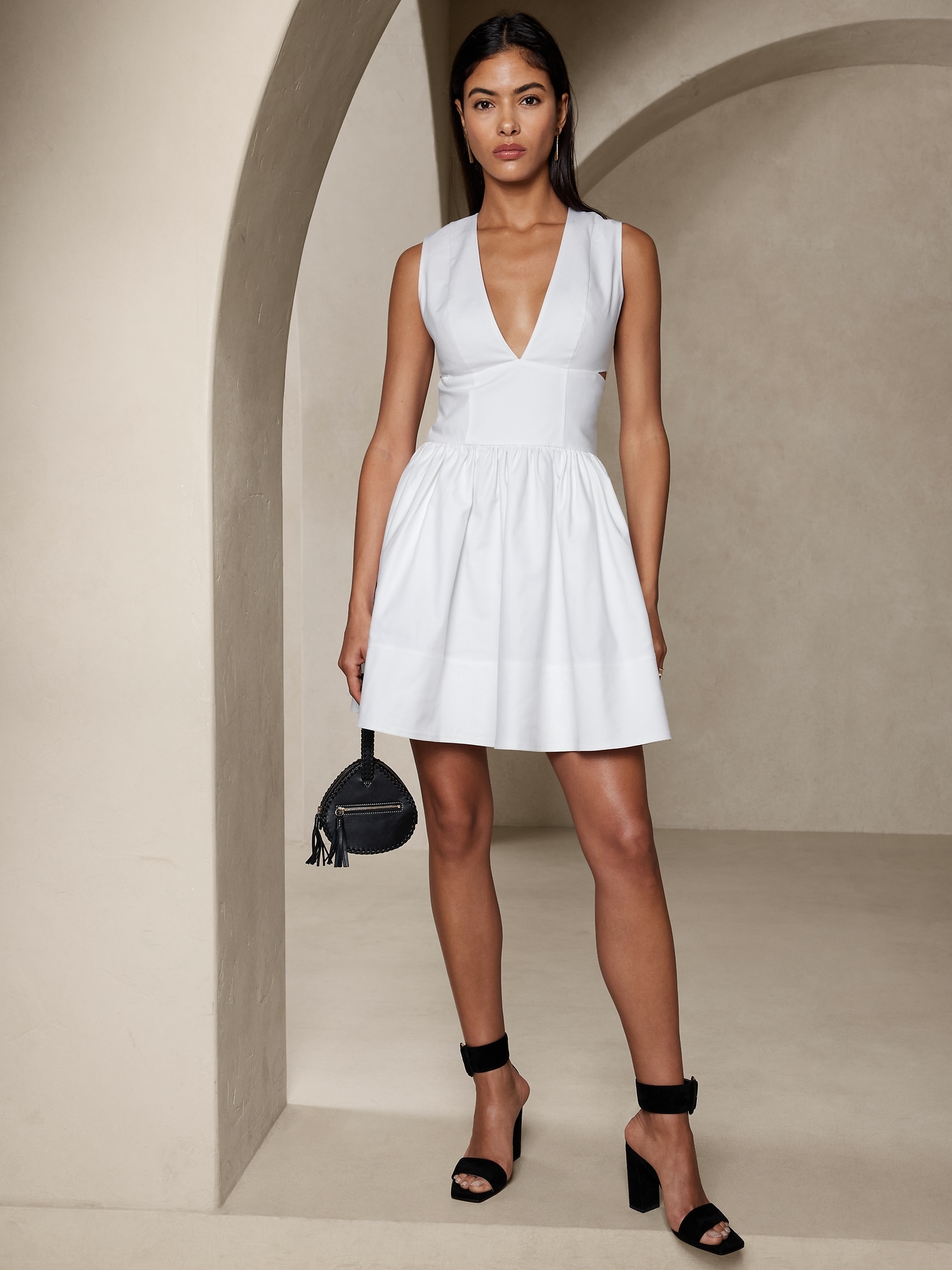 So there you have it, the top 10 summer dress trends for 2023. Whether you prefer bold colors, playful details, or classic silhouettes, there's a summer dress trend that's perfect for you. For more inspiration on what to wear this summer, you'll want to check out the spring summer trends on the blog. It contains all the information you need to look elegant and chic without breaking into a sweat!